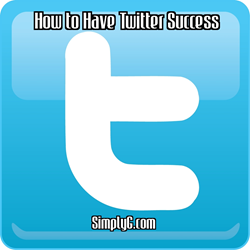 "You have to do it systematically, tweet by tweet," Reynolds said. "We have learned from trial and error. You learn new strategies everyday. "
Pittsburgh, PA (PRWEB) June 13, 2014
Neil Haley, the Total Tutor host of the Simply G Radio Show, interviewed successful entrepreneur and Top 10 Percent Social Media Influencer GJ Reynolds to get his take on the importance of Twitter, find out what tips he would provide people, and get an update on the new ebooks that he will be writing.
Reynolds is an original founding member in the company ViSalus and is now a 5-Star Ambassador, Vi Millionaire, and CEO of Simply G Media. He has written a book titled The Playful and Powerful Warrior Within You and holds the distinction of completing the Dale Brown Challenge by working out for over 950 days straight (and counting).
"We were both Twitter quitters," Reynolds said, referring to himself and host Haley. "We said, 'This stupid.' Now I look at it and, who would of thought, it is my favorite social media platform."
Reynolds said, "You are texting to the world. Everyone is able to see it." His change of heart, according to Reynolds, came after reading the Tao of Twitter by Mark Schaffer. Reynolds said that immediately after finishing the book, he had a tweet ready to go and posted it. Shortly after, he received a reply from Schaffer and a whole group of people began communicating with him. Then, Reynolds said, the light bulb went on for him. He knew he had to learn this social media platform.
In the interview, Reynolds also described how he has learned to use Twitter successfully and how he thinks others should approach Twitter. "You have to do it systematically, tweet by tweet," Reynolds said. "We have learned from trial and error. We learn new strategies everyday.
Haley said, "Twitter is a networking tool. You want to meet the next top executive, you want to meet a CEO, and you want to find the next expert on basket weaving. Twitter is where you find the people. It is like LinkedIn."
You can find out more information on Simply G Media by going to http://simplyg.com/media/simplyg-radio/