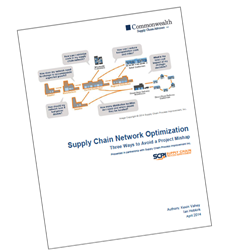 Boston, Massachusetts (PRWEB) June 17, 2014
Supply chain network optimization is a powerful exercise capable of significantly impacting a company's supply chain costs and customer service levels. However, many companies have found that their supply chain network optimization projects have not been effective initiatives.
A new whitepaper from Commonwealth Supply Chain Advisors examines the reasons why some projects are less successful than others and tells readers how to capture the savings and increased service potential of their company's supply chain network optimization efforts.
The whitepaper, entitled, "Supply Chain Network Optimization – Three Ways to Avoid a Project Mishap," identifies three main culprits of challenged projects:

Poor data accuracy and format
The use of ineffective techniques
Lack-of or incorrect ongoing application
The whitepaper provides 18 specific things a company can do to avoid these pitfalls and fully leverage the power of supply chain network optimization. The whitepaper authors Kevin Vahey and Ian Hobkirk developed this list based on their real life experiences helping companies navigate the complexities of network strategy and apply the results to realize positive business impact.
Making the time for accurate data gathering, correction and validation is key to network optimization success. A company could spend as much as half of the project timeline cleansing and validating data and building model databases. This is arguably one of the most important aspects of a project.
Looking toward future projects, it is also very important to develop sustainable data practices. Improving data integrity and getting the data into a position to be extracted accurately and repeatedly in the future can be a large payback item from a company's initial network analysis. To fully leverage an investment in network optimization, a company should use the model on an ongoing basis to evaluate the network impact of potential business changes such as mergers and acquisitions, the addition of new customers or channel transformation. Having accurate data as well as maneuvering tactics in place for the future is critical.
A full list and explanation of necessary prep work, pitfalls to avoid and the application of project findings are included in the whitepaper, which was created to help those performing supply chain network optimization do so more efficiently and effectively. "Supply chain network optimization projects can seem daunting, especially if a company has never undertaken such an exercise before," says whitepaper co-author Ian Hobkirk. "However, with proper attention to data and techniques, and a holistic application of the findings, companies often discover that supply chain network optimization studies become a critical key to the long-term success of the enterprise."
About Commonwealth Supply Chain Advisors
Commonwealth Supply Chain Advisors is a leading supply chain consulting firm that helps companies of all sizes structure their supply chain networks, design distribution centers, and select and implement warehouse management systems (WMS). Commonwealth is based in Boston and works with clients across the globe. For more information, please contact Jennifer Thomas at (617) 948-2153 or visit http://www.commonwealth-sca.com.