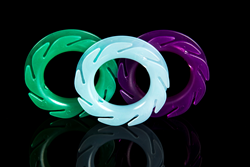 I got frustrated with having this tangle of wires in my pocket. I have 25 years of experience as a designer and problem solver. So I set about solving it. - Scott Rodwin, inventor of The LOOP
Boulder, CO (PRWEB) June 11, 2014
Here's a Father's Day gift for the Dad who has everything – including tangled earbuds – and would be happy to have this annoyance out of his life.
Called The LOOP the inexpensive device was designed with one mission in mind – to ensure users never have to waste another frustrated minute of their life untangling a Gordian Knot of earbud wires.
The gadget was born out of the personal experience of its inventor Scott Rodwin, an award-winning Boulder-based architect.
"I got frustrated with having this tangle of wires in my pocket. I have 25 years of experience as a designer and problem solver. So I set about solving it," said Rodwin. "I went through seven different designs over three years to come up with the best earbud holder on the market. I needed it to be elegant and fun, attractive to look at and pleasing to hold, and durable. Something that I'd want to use myself everyday."
The result is a gadget that will simplify Dad's life and is intuitive to use. Wind on. Wind off. The LOOP works with virtually any make and model of earbuds, from Apple to Bose to JVC and Skullcandy. The gadget slips easily into a shirt pocket or work out shorts, and fits perfectly into the bottom of a car cup-holder. The device also protects earbuds from damage.
The unique patented design was first introduced at the 2014 Consumer Electronics Show in Las Vegas, Nevada. The device comes in a rainbow of 10 translucent colors and is made in Colorado. Cost: $6.99 for one and $16.99 for a tri-pack of three. The LOOP can be ordered online at http://www.ipocketloop.com.
Contact:
Neshama Abraham
303.413.8066
Neshama(at)ipocketloop(dot)com