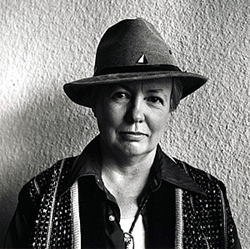 Palo Alto, CA (PRWEB) June 13, 2014
Sofia University Women's Spirituality Professor Judy Grahn, will be honored at the upcoming San Francisco Pride Celebration to be held the weekend of June 28 and 29, 2014, at the foot of San Francisco's historic City Hall. Recently, the SF Pride Board of Directors selected Grahn as the 2014 Lifetime Achievement Grand Marshal. This very special award honors her many years of dedication to furthering the causes of lesbian, gay, bisexual, transgender, queer (LGBTQ) communities.
Since 1965, when she picketed the White House for Gay rights, and published an article in Sexology Magazine, Grahn's writings have inspired and fueled second wave feminism, Gay and women's spirituality movements and lesbian activism. Grahn was a member of the first lesbian feminist collectives on the West Coast, the Gay Women's Liberation Group, which established A Woman's Place, the first women's bookstore, and The Woman's Press Collective, the first all-woman press.
She has published three poetry collections, two book-length epic poems, eight chapbooks, a novel, four nonfiction books and numerous short stories and articles. Her work has won her an NEA grant, two American Book Awards, two Lamda book awards, a Stonewall Award and a Bill Whitehead Award for Lifetime Achievement. Selected works include but are not limited to: A Simple Revolution, Edward the Dyke and Other Poems, Another Mother Tongue, The Judy Grahn Reader, She Who, Blood, Bread, and Roses: How Menstruation Created the World, Mundane's World (an ecotopian novel), and Love Belongs to Those Who Do the Feeling.
As a member of the first lesbian feminist collective in the U.S., Judy's contributions to the feminist and LGBTQ movements have been instrumental. In 1995, she was awarded The Publishing Triangle's Lifetime Achievement Award (in Lesbian Letters). Publisher's Triangle also established "The Judy Grahn Nonfiction Award" in 1996, which has been won by Alison Bechdel, Barbara Hammer, Judith Jack Halberstam, Lillian Faderman, and Jeanne Cordova, among others.
Past recipients of the Grand Marshal Lifetime Achievement award include; Theresa Sparks, William Beasley, Ambassador James Hormel and Willie L. Brown, Jr. to name a few.
Grahn is also expected to deliver the keynote address at Sofia University's upcoming 2014 commencement ceremony.
To learn more about Judy Grahn please visit:
http://www.sofia.edu/content/judy-grahn
http://www.judygrahn.org/
About Sofia University
Founded in 1975, Sofia University (formerly the Institute of Transpersonal Psychology) is a private, non-sectarian university accredited by the Western Association of Schools and Colleges. For over 35 years, within the context of scholarship and research, the school has offered transformative education for the whole person, probing the mind, body, spirit connection. As Sofia University, the school is broadening its mission, reaching into multiple disciplines and adding undergraduate study. For more information, visit http://www.sofia.edu.