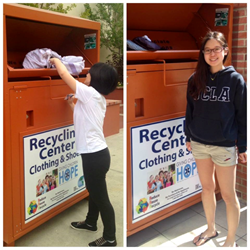 The key to diverting tons of unwanted textiles from local landfill is to educate, empower and enlist our youth towards a greener tomorrow!
Houston, TX (PRWEB) June 19, 2014
As the academic school year comes to a close, an average of 3.4 million students are receiving undergraduate degrees and moving out of campus housing (US Census Bureau). This mass exodus generates nearly 200 million pounds of dorm room textiles nationwide – 95 percent of which are recyclable and can diverted from municipal landfills (SMART Association).
As part of its annual College Move Out Month campaign, American Textile Recycling Service (ATRS) partnered with six college campuses nationwide to educate, empower and enlist students in the importance of recycling clothing, shoes and dorm room textiles towards a greener tomorrow!
ATRS Clothing & Shoe Recyclers were placed conveniently near dorm rooms and campus residences benefitting a designated area non profit organization such as MADD and Giving Children Hope. Every pound collected generated direct funding for charitable programs and services in these communities.
As a result of successful viral marketing campaigns including campus recycling maps and social media shout outs, a record-breaking 30,000 lbs. was collected from participating campuses: UCLA, University of La Verne, Tennessee State University, Vanderbilt University, The University of Central Oklahoma and Oklahoma City University.
"This campaign empowers a new generation of green advocates and so much more," explains Debra Stevenson Peganyee, Chief Marketing Officer for ATRS. "It helps universities reduce waste management fees, educates students about preserving our renewable resources and enlists campuses in generating much needed funding for local charities."
ATRS would like to extend a huge thank you to our charitable partners, the participating university campuses and every college student who recycled during the move out campaign instead of contributing to landfill waste streams.
American Textile Recycling Service (ATRS) is the nation's fastest growing textile recycler. Its socially responsible business model provides free textile recycling solutions for the public, job stimulation worldwide and much-needed funding for worthy local charities. Easy, convenient ATRS Recyclers are available throughout Southern California, Oklahoma, Tennessee, Dallas, Atlanta, Orlando, Phoenix, Scottsdale, Tempe and Tucson AZ, Houston, San Antonio, Austin, Galveston and Beaumont TX, Michigan and Colorado. For press inquires contact pr(at) atrsonline(dot)com.