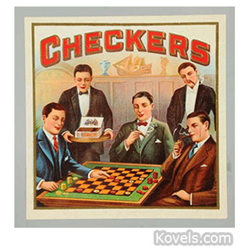 (PRWEB) June 12, 2014
Buy Dad a gift that is old, unique or vintage for Father's Day. Find an antique or collectible that relates to his job, hobby or interest. Kovels.com has five ideas to get started.
1. The mechanic father or the Dad who likes to work on cars might enjoy anything petroliana. Tin or porcelain gas station and automobile advertising signs, road signs, gas pump globes, license plates or even an old traffic light ($144) could be decorative additions to his work space.
2. The sportsman father might appreciate an antique fishing creel ($40-$1,000), rod or lure ($18 to $3,000), a golf club with a wooden shaft and head ($25 to $2,000) or nautical items including navigational instruments, maps or an old sea chest.
3. The do-it-yourself father may like 19th century tools. Molding planes carved from wood, homemade saws and axes and even folding rulers can be used as decorations or for special building projects. Many examples sell for a few hundred dollars.
4. Father enjoys an occasional cigar? Smoking accessories from pipes and humidors to cigar cutters and cigar box labels are available. Even collectors who have stopped smoking buy them. Old cigarette lighters, made by companies such as Dunhill, Zippo and Ronson, are functional and artistic and have been going up in price. Look especially for engraved lighters and lighters from World War II. Least expensive are table lighters.
5. Does Dad have a "man cave" that is a work in progress? Frame an old cigar box label. They are intricate, detailed and colorful pieces of art. Or frame an old stock certificate—one that has an autograph of a famous person, an attractive picture or is from a company in which he has interest. Paper stock certificates are rarely used today. Or think bronze, a sculpture of a dog, a golfer or a hero, or medals that commemorate awards or significant events and are designed by known artists would also be handsome additions.
Pictured is a 5-inch cigar outer label, suitable for framing, that sold for $144 at a Morphy's auction in Pennsylvania.
To hunt for an affordable gift, check local flea markets, antiques shops and antiques malls to find items that are collectible, pertinent, yet "different."
Terry Kovel is America's foremost authority on antiques and collectibles. She is the well-known columnist and author of more than 100 books on antiques and collecting. With her daughter, Kim Kovel, she co-authors the best-selling annual "Kovels Antiques and Collectibles Price Guide." Both Terry and Kim are collectors. They will discuss antiques and collectibles topics with accredited media. Photographs are available. Contact pr(at)kovels.com.
About Kovels.com
Kovels.com, created by Terry Kovel and Kim Kovel, provides collectors and researchers with up-to-date and accurate information on antiques and collectibles. Kovels' Antiques was founded in 1953 by Terry Kovel and her late husband, Ralph. Since then, Kovels' Antiques has published some of America's most popular books and articles about antiques, including the best-selling "Kovels' Antiques and Collectibles Price Guide," now in its 46th edition. Ralph and Terry were featured in three TV series about antiques and collectibles, The most recent was "Flea Market Finds with the Kovels" on the HGTV cable channel. The Kovels' website, online since 1998, offers 900,000 free prices and includes a free weekly email, "Kovels Komments." It give readers a bird's-eye view of the market through the latest news, auction reports, a Marks Dictionary, readers' questions with Kovels' answers and much more.
Contact Information:
Liz Lillis
216.752.2252