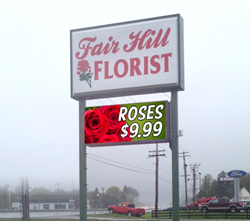 We look forward to bringing in new customers with our new LED sign!
Elkton, MD (PRWEB) June 23, 2014
Drivers along Route 40 in Elkton have a lot of signs to look at; car dealerships, restaurants, office parks, and a host of other businesses are all working to grab the attention of the potential patrons. One of these businesses, Fair Hill Florist, recently installed a new full color LED sign to welcome the 50,000+ cars driving past their location daily. The LED sign was provided by one of the most trusted sign sources in the area, KC Sign and Awnings, and manufactured by Vantage LED, a US-based manufacturer in Ontario, California.
Fair Hill Florist, who has served Elkton and the surrounding areas since 1975, had been using a manual letter board for years, but realized that they weren't getting the exposure they wanted. They turned to KC Sign and Awnings for help, who had previously installed a high quality custom awning to their store front. According to the Florist, they chose to work with KC Sign because of their reputation for providing "top quality signage" in the area, and their expertise in the LED sign industry.
"Joe Clark from KC Sign explained all the different type of LED signs and manufacturers to us," said a Fair Hill Florist representative close to the project, "[He] recommended Vantage LED because of their 5-year parts and labor warranty, easy-to-use software, responsive technical support, and their competitive pricing."
KC Sign and Awnings has been providing interior and exterior signage to the Mid-Atlantic Region for over 20 years, and have seen steady growth over that time. Originally in a single 2,000 square foot building, they now operate 3 locations serving the PA, DE, NJ, and MD areas, and manufacture signage at their 25,000 square foot facility in Aston, PA. They offer a wide variety of sign products, including awnings, channel letters, digital printing, electric signs and more. Additionally, they provide a full range of services like permitting, design, installation, project management, and service calls both locally and nationwide.
The sign used for this project was manufactured by Vantage LED in Ontario, California. They've been producing quality LED signs for over a decade, and providing innovative solutions like the SM Infinity software, which lets end users control their LED sign from the internet or iPad. According to Joe Clark, VP Regional Operations for KC Sign and Awning, Vantage LED is a perfect match for their own approach to quality, support, and manufacturing.
"Vantage LED provides top quality service and products," he explained, "which works well in combination with the high quality signage we manufacture here at KC Sign & Awnings."
While many types of signs dot the roadside, some are more effective than others. Businesses like Fair Hill Florist are turning to outdoor LED signs for advertising because they have proven to be one of the most cost effective options on the market. Fair Hill Florist has built a reputation on customer service, going the extra mile, and unique offerings like personal hand-delivered bouquets. The new LED sign gives them the power to communicate these offerings in a dynamic and colorful way, something they are excited to experience.
"We are extremely happy about our decision to use KC Sign & Vantage LED," they explained, "...we look forward to bringing in new customers with our new sign!"
Quality sign providers like KC Sign and Awnings have the ability to provide a "one stop" approach to signage by manufacturing in-house, and maintaining a workforce of highly skilled personnel and leadership. Integrating LED signs with traditional signage can be challenging, but they have developed a system that incorporates smart engineering, production, and quality components to make the process as easy as possible for their customers. This new installation is a testament to that process, and the success that occurs when a good business like Fair Hill Florist teams up with quality partners like KC Sign and Vantage LED.