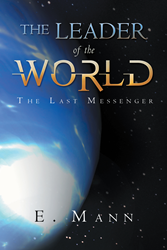 a unique look at the impact that extreme religious groups have on international relations, as well as the need for change among today's widespread conflicts
MELBOURNE, Australia (PRWEB) June 13, 2014
The first two world wars were sparked by a desire for power and the struggle for control over land and people. What would be the trigger for a third world war?
"The Leader of the World" examines the state of humanity overrun by environmental destruction and violence through the story of one man's race against time on a mission to save himself and the planet.
Author E. Mann, inspired by his interpretation of global conflicts, highlights the need for change and action to overcome the issues of important topics, including pollution, disease, hunger and war.
"I wish that I had the power to solve the major problems of the world, especially the starvation and abuse amongst the poor and uneducated," Mann said. "Their plight is sometimes caused naturally, but I feel that in the majority it is caused by corrupt governments."
"The Leader of the World" offers a unique look at the impact that extreme religious groups have on international relations, as well as the need for change among today's widespread conflicts.
For more information, visit bookstore.balboapress.com.
"The Leader of the World: The Last Messenger"
By: E. Mann
Paperback: $22.99
E-Book: $3.99
ISBN: 9781452512372
Available at bookstore.balboapress.com, amazon.com and barnesandnoble.com.
About the author
E. Mann was born in Europe in 1944 and moved to Australia with his family in 1954. In 2000, after a long career as a financial planner, he retired and devoted his energies to writing and exploration. Mann currently lives in Melbourne.
# # #