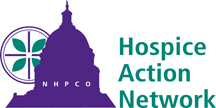 Now more than ever, it is vital that hospice providers participate in grassroots advocacy on behalf of the hospice community.
Alexandria, VA (PRWEB) June 16, 2014
Silverado Hospice was awarded the Hospice Action Network's Advocacy Innovator Award at the annual Advocacy Intensive held in Washington, DC, June 16-17, 2014. The Advocacy Innovator Award recognizes individuals or organizations for exemplary advocacy on behalf of hospice and palliative care. Silverado Hospice demonstrated outstanding leadership and dedication in advocating for the hospice and palliative care industry in front of key Members of Congress.
"Now more than ever, it is vital that hospice providers participate in grassroots advocacy on behalf of the hospice community," says NHPCO President and Chief Executive Officer, Don Schumacher. "Silverado has worked hard to establish and maintain an advocacy program across all of their locations, integrate that program throughout their entire organization and build relationships with key Members of Congress"
Some of Silverado's most notable achievements include over 18 site visits from Congressional members since 2013, developing community advocacy models with other local hospices, establishing email communications and quarterly check-ins with Legislators on a variety of policy topics and sharing critical information with the Hospice Action Network about their advocacy efforts.
"Being recognized as the HAN 2014 Advocacy Innovator of the Year by Hospice Action Network was made possible thanks to Silverado hospice leaders, nurses and supportive care teams who passionately believe in what hospice care brings to a patient and their loved ones," says Silverado Hospice Senior Vice President Randy A. Platt. "It is our hope that the inspiring stories shared in Washington D.C. and locally by our associates will encourage the hospice industry to embrace federal and state advocacy."
Silverado was founded in 1996 with the goal of enriching the lives of those with memory impairments. The company has since extended that life-enriching care by offering hospice and at home care services. Silverado currently operates in eight states, where it provides exceptional care to address the spectrum of changing needs for individuals and families alike.
The Advocacy Intensive, a two-day advocacy and policy event, brings over 200 hospice professionals from across the country together to learn best practices for advocating for hospice and to connect directly with their Members of Congress through congressional meetings on Capitol Hill.