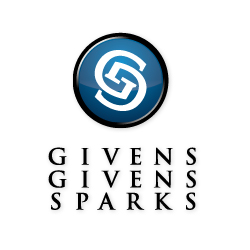 Tampa, FL (PRWEB) June 11, 2014
Givens Givens Sparks, a Tampa-based law firm, is proud to announce that six of its attorneys were honored with Super Lawyers® and Rising Stars℠ distinctions. Founding Partner Stann Givens, along with attorneys Ellen Ostman and Blair Chan, were selected as Super Lawyers®. Managing Partner Christian M. givens along with attorneys Damien McKinney and Chris Codling were chosen for the honor of Rising Stars℠.
Super Lawyers® rates lawyers who have attained a high degree of peer recognition and professional achievement in more than 70 practice areas. The annual selections are made using a process that includes a statewide survey of lawyers, an independent research evaluation of candidates and peer reviews by practice area.
To be selected for this honor, an attorney must be nominated by his or her peers – lawyers cannot nominate themselves. After formal nominations, the research process begins. Each attorney is evaluated on 12 indicators of peer recognition and professional achievement. Only lawyers with the highest point totals in each category receive the honor.
The selection process is the same for Super Lawyers® and Rising Stars℠. The only distinction is that the Rising Stars℠ honor is exclusively for attorneys who are either under the age of 40 or who have been in practice 10 years or less.
Annually, no more than five percent of attorneys are chosen as Super Lawyers® and no more than 2.5 percent of attorneys are chosen as Rising Stars℠ in each state. Givens Givens Sparks is pleased to have lawyers with these credentials representing its clients.
About the Firm
Givens Givens Sparks is a reputable law firm located in Tampa, Florida. The attorneys at the firm bring a collective 135 years of experience to the table. Givens Givens Sparks is also the largest group of family law attorneys at one firm in Florida. Two of the attorneys on staff are Board Certified as specialists in their field and founding partner Stann Givens was voted as one of the "Best Lawyers in America." To learn more about the firm, visit http://www.familylawfirmflorida.com.