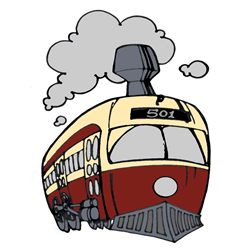 This fair is going to be an excellent opportunity for people who aren't familiar with "Steampunk" to come and see what it's about, and of course it will be a good time for those that are already in love with the genre.
Toronto, ON (PRWEB) June 13, 2014
On Saturday June 21st, 11:00 AM to 7:00 PM Canadian Steam Productions is once again holding Toronto's only annual Steampunk Street Fair -Steam on Queen- on the grounds of the Historic Campbell House Museum, located on the north west corner of Queen Street and University Avenues: 160 Queen Street West.
Featuring local vendors and entertainers and their take on the Steampunk genre, visitors are invited to shop the unique wares while the Campbell House Museum's Lemonade Garden provide refreshments made on site in the museum's Georgian era kitchen.
Admission to "Steam on Queen" is free, and tours of Campbell House Museum will be conducted throughout the day.
Performances by "Dr. Mulberry's Travelling Medicine and Magic Show", the aerialist students from the Flying Arts Collective, the Steampunk-inspired Dragonettes from Dragonfly Bellydance, Nero's Fiddle (formerly the Twillingham Ladies Chorus) and Flamenco Zingari Dance, bringing Steampunk-Flamenco fusion to the stage.
Also appearing is "Floss & Tann's Wunderkammer: A Cabinet of Curiosity for the Incurably Curious" ... "Venture inside our historic Toonie Museum & witness a concoction of sights rarely seen, cautionary tales & mythological mysteries. Step Right Up! "
For additional information, showtimes and full vendor list please see the website: http://www.steamonqueen.ca.
Brought to you by Canadian Steam Productions, specializing in producing Steampunk-themed events, displays and programs, bringing you only the very best in Canadian Steampunk culture.