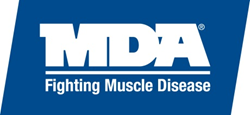 'I am pleased to welcome one of America's most respected and well-known voluntary health agencies to Chicago,' said Mayor Rahm Emanuel.
Chicago, Illinois (PRWEB) June 12, 2014
The Muscular Dystrophy Association has a new national office from which to direct its mission, fundraising and operational strategies.
The 64-year-old voluntary health agency announced today it has moved into its new national office in the city's downtown business district. The office will serve as a hub for MDA's executive management, governance, and scientific and medical advisory leadership as MDA pursues its mission to save and improve the lives of people fighting muscle disease. The office is located at 222 S. Riverside Plaza in the building atop Chicago's Union Station.
"We are very excited to open our new MDA National Office in Chicago and continue the lifesaving work underway on behalf of children and adults fighting muscle diseases, including Duchenne muscular dystrophy, spinal muscular atrophy and ALS (Lou Gehrig's disease)," said MDA President and CEO Steven M. Derks. "Chicago will serve as our central base for our operations, building on the significant work that occurs in our communities, health care institutions and research labs across America."
Since 1991, MDA had been headquartered in Tucson, Ariz. The majority of its national staff will remain in Tucson and work as part of its newly named MDA Operations Center. By the end of the year, MDA anticipates it will have 40-50 staff members based out of the MDA National Office in Chicago, including staff from the Chicago district office.
"I am pleased to welcome one of America's most respected and well-known voluntary health agencies to Chicago," said Mayor Rahm Emanuel. "As the nation's leader in fighting muscle disease, MDA has once again affirmed that the city of big shoulders and big muscles is the best location to help MDA orchestrate its lifesaving work for the estimated 1 million Americans living with these diseases. I look forward to working with MDA and supporting its growth and lifesaving work."
The relocation of its national office to Chicago is part of a larger MDA management and operational transformation. Powered by MDA's current and past research investments and the care it provides to patients through its network of nearly 200 clinics at leading health care institutions throughout the country, more new muscle disease-fighting drugs are expected in the next five years than in the previous five decades, and more clinical trials are underway that will introduce new therapies for diseases once considered untreatable.
"We stand on the shoulders of dedicated national partners like America's fire fighters and corporate sponsors, past MDA Labor Day telethon supporters and celebrities led by the incredible Jerry Lewis, and the generous American public who've brought us to this remarkable time of progress and hope," Derks said.
Beyond housing its staff, the new Chicago MDA National Office will serve as a showcase for selected pieces in MDA's award-winning art collection, which features 400 pieces of art created by individuals affected by dozens of muscle diseases covered in MDA's program. The collection showcases the achievements of artists with disabilities, emphasizing that physical limitation is no barrier to creativity. Pieces in the collection often travel the country on exhibit.
About MDA
The Muscular Dystrophy Association is the world's leading nonprofit health agency dedicated to saving and improving the lives of anyone with muscle disease, including muscular dystrophy, amyotrophic lateral sclerosis (ALS) and other neuromuscular diseases. It does so by funding worldwide research to find treatments and cures; by providing comprehensive health care services and support to MDA families nationwide; and by rallying communities to fight back through advocacy, fundraising and local engagement. Visit mda.org and follow us at facebook.com/MDAnational and @MDAnews. Learn more about MDA's mission by watching this video.
Editor's Note: The address of the new MDA National Office is: 222 S. Riverside Plaza, Suite 1500, Chicago, Illinois 60606. Please change any directory listings to reflect this site as MDA's new headquarters location.