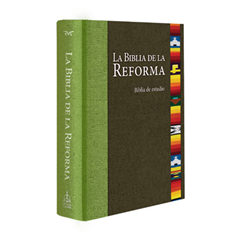 This was a labor of love... It is a masterpiece, filled with rich historical information and detail.
St. Louis, MO (PRWEB) June 12, 2014
Something this exciting happens only once every 500 years.
"La Biblia de la Reforma," the Spanish Bible of the Reformation, from Concordia Publishing House (CPH), is available in bookstores now.
"This is a beautifully illustrated legacy piece for any collection," says Erin Mackenzie, CPH Multilingual Resources. "This is a resource you can pass down from generation to generation. Missionaries will use this in the field. Pastors will share this with their congregations. It is an important tool that will unite hearts and minds in Christ, allowing individuals to overcome language barriers. We are so excited it's here."
This exciting new resource is now here for the world's 400 million Spanish speakers to enjoy. It is published in hardback and leather versions, and is the perfect resource to get in time for the Month of the Bible in September, as well as the upcoming 500-year anniversary of the Reformation.
"Interest in this resource before its arrival was very strong," according to Mackenzie. "We're very encouraged by the initial consumer response."
For years, there have been requests for CPH to produce a Spanish study Bible. A great deal of thought, care, research, and preparation went into this comprehensive work. "This was a labor of love," says Hector Hoppe, the project's editor. Hoppe conducted research throughout the United States and in Latin America to make this latest publication a reality. "It is a masterpiece, filled with rich historical information and detail."
"This truly is an indispensable resource for everyone—from Christian colleges and universities to families. It's a great way to enrich your devotional life," Mackenzie adds.
Its preface tells the parallel stories of Martin Luther, the reformer who first translated the Bible into German and started the Reformation, and Casiodoro de Reina, who simultaneously completed the first Spanish translation.
The new Spanish Bible includes:

Commentaries from Martin Luther and more than 130 theologians from around the world
The clear, modern text of the Reina Valera Contemporánea
Rich symbolism and descriptive language
In-depth study notes
An introduction to every book
The words of Jesus captured in red
A variety of articles, study topics, tables, and charts
More than 6,000 cross-references
"La Biblia de la Reforma" is available for purchase at cph.org or by calling (800) 325-3040. For more information, contact Beth Behrhorst, CPH Public Relations, (314) 268-1294, or by email, beth(dot)behrhorst(at)cph(dot)org.
About Concordia Publishing House
Concordia Publishing House (CPH) is the publishing arm of The Lutheran Church—Missouri Synod. For nearly 145 years, CPH has been providing individuals, churches, and schools with products that are faithful to the Scriptures and the Lutheran Confessions. From books and Bibles to church supplies, curriculum, and software, CPH offers more than 8,000 products to support the proclamation of the Gospel worldwide. Visit CPH online at cph.org.
# # #