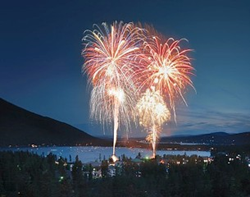 4th of July is an amazing time to visit the communities of Grand County, Colorado.
Granby, CO (PRWEB) June 13, 2014
The Fourth of July is a day of celebration, one in which expressions of freedom usually involve parades, fireworks and outdoor eating. In Grand County, Colorado, Independence Day is marked with traditional events that demonstrate a distinct mountain style. Journey to the high country to celebrate the "grand old flag" in these Grand County locations.
Granby
Granby will celebrate the 4th of July on the day with a Parade and Party in the Park. Enjoy a flyover at 10:45 a.m. then the Parade down Agate Avenue at 11 a.m. The Party in Polhamus Park starts at 11:45 a.m. with games, vendors and a pie throwing contest. The 4th of July Kids Carnival starts at 1 p.m. at the Granby Ranch, featuring face painting, a bouncy house, games, relay races and more.
On Saturday, July 5, cowboy up for the Flying Heels rodeo at the Flying Heels Rodeo Arena, located south of downtown Granby. The rodeo starts at 7 p.m. with a fireworks show following at 9 p.m.
Kremmling
Kremmling's Annual Fire Up the Cliffs returns for Independence Day on Friday, July 4. Truly a small-town celebration, Fire Up the Cliffs begins at 6 p.m. in the Town Square and features a barbecue dinner, homemade pies and live music. The culmination of the event takes place when the sun goes down and the spectacular fireworks display shoots off of the top of the cliffs at dark. It's a unique event in a one-of-a-kind town.
Fraser Valley
Breakfast is the most important meal of the day, so guests are invited to participate in the annual Fraser Valley Lion's Club Pancake Breakfast in downtown Winter Park from 8 a.m. – 11 a.m. before joining the fun at the Lance Gutersohn's 4th of July Celebration. Taking place at the Fraser Sports Complex, the 4th of July celebration will include activities for the kids, hay rides, a community picnic with a variety of food vendors and hot air balloon rides by REMAX. The party starts at 4 p.m. and will continue until the launch of the REMAX Peak to Peak Fireworks Display at dark.
On Saturday, July 5, the Rendezvous Run for Independence, a five mile run/walk, will start at 9 a.m. in Winter Park. The race starts at the Vintage Hotel near Winter Park Ski Resort and will lead participants through forests and valleys down the Fraser River Trail. The race will finish at the Rendezvous pond with a post-race part with refreshments, awards and prize drawings.
Grand Lake
One of Colorado's most extraordinary fireworks displays, the Grand Lake Fireworks Extravaganza is the cherry on the top of a day of celebration. Nestled between Rocky Mountain National Park and Colorado's largest natural lake, Grand Lake, the fireworks are reflected and magnified in the waters of the lake, creating a spectacular show. Before the sun sets, though, the town's festivities include a pancake breakfast, fishing derbies and Grand County-Granby's Fourth of July Parade.
Check out Grand County's Facebook page at http://www.facebook.com/grandcountycolorado and follow @grandcountyco on Twitter or http://www.pinterest.com/grandcountyco/ on Pinterest.
About Grand County, Colo. (http://www.visitgrandcounty.com)
Located 67 miles west of Denver, Grand County is home to wide-open spaces, breathtaking mountain scenery and authentic old-west towns. Outdoor recreational activities include golf, boating, fishing, biking, hiking, fishing, hunting, horseback riding, skiing, cross country skiing, snowmobiling, ice fishing, sleigh rides and tubing. The area features more than 600 miles of mapped and marked trails, one national park, two national forests, two wilderness areas, two national scenic byways, two major ski resorts, five world-class dude ranches and four mountain golf courses. Grand County's extensive water network includes Colorado's largest natural lake, 1,000 miles of streams, 1,000 acres of high-mountain lakes and 11,000 acres of reservoirs.
(end)
Media Note: To request photography, interviews or more information, please contact Gaylene Ore, Ore Communications, at 970-531-2336 or gaylene(at)orecommunications(dot)com.