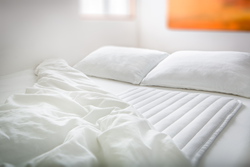 Los Angeles, CA (PRWEB) June 18, 2014
The new sleep pads created by Earthwonderful promise to support the natural recovery process during sleep in addition to further benefits that are unique to the three different mixes offered.
Earthwonderful specializes in developing products in the realm of complementary and alternative medicine. These products are tailored to help improve quality of life in a therapeutically unique way.
Sleep is when we recover and heal. A study (1) done by Prof. Dr. Lukanov, Prof. Dr. Lüttig and Dr.Sagorchev showed that it was possible for biologically active substances to enter the human body, through aspiration and permeation, and have a positive therapeutic effect on the body's natural healing process during the hours of sleep.
Earthwonderful took advantage of this gentle delivery method and developed sleep pads - finely tuned dosages of a proprietary mixture of natural ingredients embedded within a soft plush pad. Consumers can enjoy the benefits Earthwonderful provides automatically, every single night in the comfort of their own bed. Simply place the pad underneath the sheet –that's it.
The pad weighs less than a pound, and fits easily in a suitcase or bag offering convenience when taken on vacation or a business trip.
The company has developed 3 different sleep pads:
Therapeutic Peat
Peat's uncanny ability to heal, nourish and detoxify has been observed by people for millennia and used in European spas since the early 1800s. It is used both to beautify and to help treat a multitude of ailments, including mobility problems, back, joint and muscle pain, arthritis and muscle recovery in sport medicine – to name a few. In Germany alone about three million peat treatments are administered every year. Americans can experience peat therapy by visiting expensive European spas featuring very messy moor bath treatments.
Swiss Stone Pine
The stone pine's soothing, relaxing and de-stressing properties have been known for decades. A study (2) conducted by the Joanneum Research Center in Graz/Austria proved that the quality of sleep in a stone pine bed was noticeably better: a higher degree of nocturnal recuperation (which carries its effects over into the next day) comes from a lower heart frequency and, consequently, reduced breathing rate. Up to 3,500 heartbeats can be saved daily, which corresponds to an hour's less work for the heart.
Lavender
Lavender has been used for more than 2,500 years, most famously by Cleopatra to seduce Julius Ceasar. However, it is much more than just a pretty smell. Lavender is supposed to help treat anxiety, sleep problems, stress or a nervous stomach.
"The therapeutic benefits of these natural remedies have been known for thousands of years but until now nobody combined this old wisdom with new knowledge and technology. What sets our products apart from others on the market is ease of use and the unique application. You can instantly turn your bed from a mere place to sleep to an oasis of wellbeing," said Rainer Wieland CEO and founder of Earthwonderful.
Earthwonderful sleep pads will be available September 2014 for a retail price of $139. The company is offering a $20 discount if preordered now through http://www.earthwonderful.com.
You can contact earthwonderful either by email (info(at)earthwonderful(dot)com) or by phone (323) 813-6385.
CONTACT:
Earthwondeful
1222 Electric Ave.
Venice, CA 90291
Rainer Wieland
Tel: 310-415-0846
References:
(1) TELMA – magazine of The German Peat Society (DGMT)
Lukanov,J., Lüttig,G.& Sagorchev,A:
Über die Rolle von Torffasern als biologisch wirksames Agens in der Schlaftherapie
(On the role of peat-fibers as biological agent in hypnotherapy)
http://www.ifaust.de/emsland-moormuseum/hzeig.FAU?sid=DF709B9E30&dm=1&ind=6&zeig=527
(2) JOANNEUM RESEARCH Forschungsgesellschaft mbH
Institute of Non-Invasive Diagnosis
http://www.tomasoethof.com/en/pbf04009ind-pine.pdf