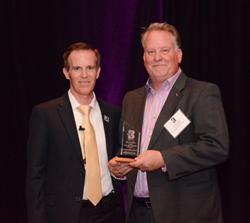 FLTG is honored to be recognized by New York State as a broadband champion for our 1,350 mile fiber network. - Paul H. Griswold, President & CEO
Victor, NY (PRWEB) June 13, 2014
Finger Lakes Technologies Group, Inc. (FLTG) was recognized by the NYS Broadband Office for being a broadband champion at the second State Broadband Summit.
The Broadband Summit, held at the Desmond Hotel in Albany, brought together more than 300 national, state, and local broadband leaders, as well as decision makers in the broadband and technology sectors, who discussed emerging technologies and exciting developments in the industry.
During the Summit, The Broadband Champion Awards were presented to state broadband leaders who have performed outstanding work in the industry and have made a significant impact on advancing broadband access and adoption in New York.
One winner was awarded with a Champion Award in each of the following categories:
Broadband Leadership Award – Phil Wagschal, Slic Network Solutions (North Country Region)
Most Innovative Broadband Project – Queens Library (NYC Region)
Most Collaborative Broadband Project/Program – Clarity Connect, Inc.; Tompkins County; and Cayuga Counties (Southern Tier Region)
Best Broadband Adoption Initiative/Program – The City of New York's Department of Information Technology and Telecommunications (NYC Region)
Economic Leadership Award – Southern Tier Network (Southern Tier Region)
In addition to the Champion Awards, many companies were recognized as Broadband Champions for their significant impact in advancing broadband access and adoption within New York State.
"FLTG is honored to be recognized by New York State as a broadband champion for our 1,350 mile fiber network," says Paul H. Griswold, President & CEO. "Congratulations to all the Broadband Champions and the accomplishments you have made within New York State."
"New York is fortunate to have so many outstanding proactive champions among our ranks. All of this year's nominees exhibit excellence within their field. However, our winners and our runners-up represent the very best projects, programs and leaders with the highest potential to benefit statewide economic and community development effort, "says David Salway, Director, New York State Broadband Office. "Continued collaboration remains the best path forward for us to expand broadband access across the state."