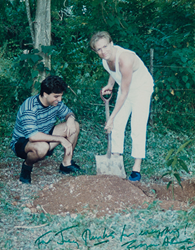 we have become too dependent on expensive oil imports, and for too long
(PRWEB) June 12, 2014
Executive Chairman of Cool Corp and the largest Jamaican distributor of petroleum products, Joe Issa, says in an interview that the authorities should be encouraged to revise upwards, the 20% renewable energy target for 2030, since Jamaica is well on track to achieve it.
The National Energy Policy 2009-2030 mandated the country to achieve 20% renewable energy by 2030, with sub-targets of 11% by 2012 and 12.5% by 2015 (Ministry of Energy and Mining , n.d.), which an official said in an interview is on track, as the energy balance at 2013, although not yet finalised already showed 10% renewable.
"I welcome what the authorities are doing to diversify Jamaica's energy base, and since we are well on track to meet the 2015 sub-target, they should be encouraged to revise upwards, the 20% renewable energy target for 2030, especially since Jamaica is replete with wind and sun, which offer the most potential for clean energy.
"This is important because we have become too dependent on expensive oil imports, and for too long...we need to rapidly reduce our dependence on fossil fuel by aggressively expanding alternative energy sources," says Executive Chairman of Cool Corp, Joe Issa.
Issa says "in this regard it is commendable that the authorities have removed all taxes on solar systems to encourage private sector investments and have set up a low interest loan facility at the Development Bank of Jamaica (DBJ) to facilitate investors."
He also noted that it was wise of them to have made it possible for alternative energy producers to sell any excess to the national grid, in respect of which some 170 licenses have already been issued.
Issa, who is the largest Jamaican distributor of petroleum products, says "there are a lot of resources out there which we do not know, for example, biomass, biogas and solar, which is a big thing now," citing the recent commissioning of a new $388 million (US$3.5 million) 1600 kilowatt solar energy system at the Grand Palladium Hotel in Hanover on May 30.
The energy generated by this system will power some 20 of the Grand Palladium's villas for more than 16 hours daily and save 200 megawatts in annual energy consumption, and with a payback period of just three years, 22 additional hotels are waiting to come on board, said Minister of Science, Technology, Energy and Mining, Hon. Phillip Paulwell, at the commissioning ceremony.
In the article: Jamaica Looks to Make Hotels Greener, Minister Paulwell says the Government's thrust in targeting the installation of renewable energy solutions in the island's hotels, "comes against the background of the administration's recognition of the need to source and provide alternative energy options to oil, on which Jamaica has become heavily dependent for power generation." (Caribbean Journal Staff, 2014)
In commending the management of the Spanish-owned Grand Palladium on its investment, Paulwell says, "You have joined a long list of hoteliers in Jamaica who have and are adapting to the use of clean energy solutions."
He assured that "the Government is playing a major role in ensuring that our small hoteliers can institute renewable energy solutions that can result in cost savings and reductions in their energy consumption."
Paulwell informed of the Caribbean Hotel Energy Efficiency Action project being implemented across the region, which aims to encourage renewable energy efficiency, especially for hotels with under 400 rooms.
"So far, Jamaica and the Bahamas are the leading countries, with 10 small and medium sized hotels benefitting from energy audits and other assistance," the Minister informed, pointing out that establishments stand to benefit from major cost savings and technical support, among other things, as the government continues to facilitate investments in solar energy and equipment in all sectors of the country.
In addition, to wind and solar energy, components in the more diversified energy source mix will include natural gas, coal, pet coke, and nuclear sources, says Jamaica's 2009-2030 Energy Policy.
References
Caribbean Journal Staff, 2014. Caribbean Journal-Jamaica Looks to Make Hotels Greener. [Online]
Available at: Accessed June 2014.
Ministry of Energy and Mining, n.d. NATIONAL ENERGY POLICY 2009‐2030-NATIONAL ENERGY INFORMATION CLEARING HOUSE. [Online]
Available at: Accessed June 2014.