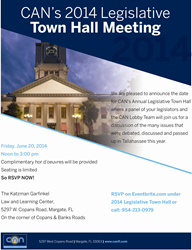 Margate, FL (PRWEB) June 13, 2014
Each year after the Florida Legislative Session the Community Advocacy Network (CAN) invites members of the public to come hear from their elected state legislators about what took place in Tallahassee during the Session. "We are committed to advocating and educating our members and others living in shared ownership communities," said Leigh Katzman, CAN's Executive Director and Founding Partner of Katzman Garfinkel. "Hosting the CAN Legislative Town Hall is part of this ongoing commitment."
While this was a relatively quiet year for legislation specific to community association and bills that actually passed the Legislature, CAN has asked the invited legislators to talk about bills important to them and why they feel these bills should become laws. "We want those attending this year's Town Hall to understand that behind every bill is a story and that story is why a legislator chooses to sponsor a bill," said Julie Fishman, CAN's Governmental Affairs and Community Outreach Director.
CAN will be hosting its Annual Legislative Town Hall on Friday, June 20th from Noon to 3:00 p.m. at the Katzman Garfinkel Law and Learning Center located at 5297 West Copans Road, Margate FL, 33063. Complimentary hord'oeuvres will be provided from Noon to 1:00 pm with the panel discussion thereafter. To RSVP for this free event, please call 954-486-7774 or RSVP via email by contacting Julie Fishman at jfishman(at)canfl.com.
About the Community Advocacy Network:
Whether you seek information about pending bills impacting community associations, wish to modify existing law or introduce new legislation, the Community Advocacy Network (CAN) is here to help. CAN is Florida's premier not-for-profit advocacy network dedicated to promoting positive community association legislation while advising legislators about the everyday challenges facing all types of shared ownership communities and the tools and resources needed to surmount those challenges.