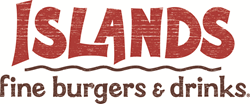 CARLSBAD, Calif. (PRWEB) June 12, 2014
Islands is the perfect place to celebrate long summer days and relax with a burger, fresh-cut fries and an ice cold drink. With a new Summertime Happy Hour beginning Monday, June 16, guests can enjoy special deals on refreshing cocktails and surf-inspired eats for extended hours at Islands Restaurants, Monday through Friday from 3 to 7 p.m.
New to the Islands menu, the Hand-Shaken Strawberry Daiquiri ($5.49 at Happy Hour) – shaken and poured the old-fashioned way, never frozen – is the best way to cool off after a hot day at the beach. Other new drinks exclusive to Happy Hour include the Spicy Mango Shandy made with mango, Coors Light and a dust of cayenne pepper for a kick ($4.25 at Happy Hour), and the Islands' Hapa Bourbon Tea with Maker's Mark, passion fruit and mint ($5.49 at Happy Hour). Also new to the menu – and exclusive to Summertime Happy Hour – are the Hawaiian Sliders: mini versions of Islands' popular pineapple-topped burger ($5.95 at Happy Hour).
Guests will also be able to enjoy Islands' other happy hour deals from 3 to 7 p.m., with bites and beverages such as Islands' famous Mai Tai, Cheddar Fries and Beachside Sliders – all under $5.
Available all day, Islands is offering the spicy Heat Wave Burger, perfect to pair with refreshing summertime cocktails. Topped with grilled Serrano and green chilies, pepper jack cheese, tomato, onion, lettuce and spicy mayo, the Heat Wave Burger is back by popular demand and returns exclusively for summer.
Along with food and drink specials this summer, guests can enter to win giveaways all season long. Weekly raffle winners will score a new beach towel, while each Islands location will end the summer by giving away a custom beach cruiser as the grand prize. Guests can enter to win a beach cruiser every time they visit an Islands location, and the winners will be selected during happy hour on Friday, Sept. 5.
Follow Islands on Twitter and Instagram @IslandsBurgers and like Islands at facebook.com/IslandsRestaurants.