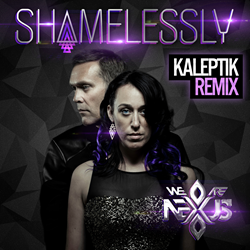 There were a few requirements we had in choosing the winning remix. One of those requirements was the proper use of vocal which Kaleptik nailed with an incredibly creative approach. - Carmen Rainier
Chicago, IL (PRWEB) June 12, 2014
On June 9th, popular EDM blog site, Your EDM, officially announced the winner of the (We Are) Nexus remix contest for their track "Shamelessly," proving that undiscovered talent truly exists and it's right in front of your eyes.
When (We Are) Nexus teamed up with Your EDM to hold a remix competition for their new original track "Shamelessly," due out on July 15th, it was not a task for the light hearted. With their original mix created in a 3/4 meter at 140 BPM, it was obvious it would take a creative approach to make a four on the floor remix work.
(We Are) Nexus prides themselves for not being your typical EDM act. In fact, they strive for difference in what maybe is already a bottle neck of "me too" content within the dance industry. "Carmen and I simply set out to write provocative tracks that are different and stand alone" says producer and composer Nick Gunn from Nexus. "We choose a 3/4 meter for our new original track "Shamelessly" simply because that's what we wanted to do and it sounded unique."
With many producers throwing their hat into the competition ring, there were a few remixes that certainly stood out amongst the pack. After sorting through the remixes late after the cutoff date on Friday, June 6th, the winner, decided by Nexus themselves, was Kaleptik.
Kaleptik (pronounced kah-lehp-tihk), a 21 year old electronic producer that started EDM production in December of 2012, was significantly influenced and started producing when he first heard "Scary Monsters and Nice Sprites" by Skrillex. With a musical background, playing piano, guitar, bass, and drums, he jumped straight into the EDM scene and clearly is one talented young producer.
"There were a few requirements we had in choosing the winning remix" says Carmen Rainier, vocalist and lyricist for Nexus. "One of those requirements was the proper use of vocal which Kaleptik nailed with an incredibly creative approach. The Dubstep track he created worked beautifully with what Nick and I had already done."
Part of the winning stash includes a pair of Scosche RH1060 Bluetooth Stereo Headphones, $250 in cash, an exclusive write up on YourEDM, and inclusion on the nationally released (We Are) Nexus "Shamelessly" EP alongside veteran remixers Audė and Papercha$er. With (We Are) Nexus plugging their EP into significant promotional activities, it's safe to say Kaleptik will receive deserved recognition.
(We Are) Nexus' track "Shamelessly" will be released on July 15th and will include remixes from Dave Audė, Papercha$er, Kirk Cosier and Kaleptic along with their original track plus two original club mixes. You can check out the entire Kaleptic remix on SoundCloud.
Keep your eyes and ears out for additional teasers for each of the tracks as the street date approaches. Keep up to date on everything (We Are) Nexus by following them on Facebook @wearenexusofficalpage and Twitter @wearenexusedm.