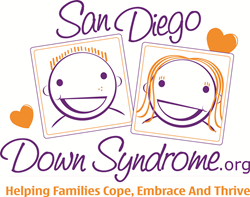 I love, I Hurt, I am just like you.
San Diego, CA (PRWEB) June 12, 2014
San Diego Down Syndrome introduces "The Ransom Notes"; come to Julian, CA.
Highly sought blue grass group called the Ransom Notes to perform a free benefit concert in Julian, CA to help raise awareness of the potential individuals with developmental disabilities like Down syndrome and autism can achieve. One of the members of the Ransom Notes have Down syndrome yet this group has broken all barriers to perform at the top of it class.
About San Diego Down Syndrome.Org
Opened to educate the community about individuals with Down syndrome, which will result in greater acceptance and advocate for the realization and enhancement of the full spectrum of human and civil rights for persons with Down syndrome. As well as to promote public awareness and a better understanding of Down syndrome but most importantly to most encourage partnerships between parents and medical and educational professionals concerned with Down syndrome.
John Leslie started San Diego Down Syndrome in 2011 after retiring from the tax accounting business to take care of his family. He has two children 6 and 9 with Down syndrome that are his heroes.
After learning much and realizing that there is no one place to get all the information out there, he decided to start San Diego Down Syndrome to put in one place all that he has learned. One of the purposes of this event is to show the public the capabilities or these special individuals.
Funds for this event were received through the reselling of book donations and other charitable gifts.
About The Ransom Notes
Siblings Amanda, Michael, and Amelia Ransom are a trio of musicians that form the musical group "The Ransom Notes". The band combines years of classical training to create a musical experience combing bluegrass music and classical.
This team came into the bluegrass scene in 2008 and has continued to emerge as a highly sought after act having performed at festivals and venues around the country. Recent accomplishments include a performance for former Speaker of the House, Nancy Pelosi at the United States Capitol.
Although they are not known for having a sibling with Down syndrome many are caught off guard when during the performance they see a person with those special features of a person with Trisomy 21. They like to keep it that way and prefer to be known for their awards and accomplishments and not be identified in any other way.
Event times and locations
Friday 6-9 p.m. at Wynola Pizza 4355 Hwy 78, Santa Ysabel, CA 92070
Saturday 6-9 p.m. Wynola Pizza Wynola Pizza 4355 Hwy 78, Santa Ysabel, CA 92070
Sunday 1-4 p.m. Wynola Pizza 4355 Hwy 78, Santa Ysabel, CA 92070
Contact
To learn more about this press release, please contact:
John L. Leslie, Founder
--
By: Jheel Gosain, Press Relations