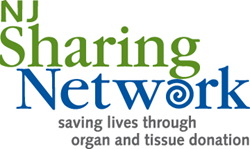 Through the efforts of NJ Sharing Network's lab, as well as the many other centers participating, 28 people received life-saving kidney transplants.
New Providence, NJ (PRWEB) June 12, 2014
NJ Sharing Network's state-of-the-art lab has received the National Kidney Registry's "Excellence in Teamwork Award" for its participation in the longest kidney swap of 2013.
NJ Sharing Network participated in "Chain 221," the second longest chain in the history of kidney transplants with 56 participants, through its work with Saint Barnabas Medical Center. Through the efforts of NJ Sharing Network's lab, as well as the many other centers participating, 28 people received life-saving kidney transplants. Among those were 10 patients highly sensitized for kidney transplantation, adding a greater level of difficulty.
The award was accepted by Prakash Rao, Ph.D., MBA, FACHE, HCLD, Vice President of Diagnostic & Research Operations and Director of the Transplant Laboratory for NJ Sharing Network during the annual "Season of Miracles Awards Event" on May 15.
"We take great pleasure and pride in seeing so many lives saved by our collective passion and innovation in the lab," Dr. Rao said. "This is an honor for my staff and Saint Barnabas Medical Center, as well as the 18 other centers around the country that were honored with this award for their work in this paired exchange – all accomplished within 40 days. We take our collective hats off to all the donors who help make this process happen."
According to the National Kidney Registry, this chain illustrates the enormous progress made to shorten set-up times for large swaps, reducing the time patients must wait for a kidney transplant. Large swaps like these also increase the ability to find matches for highly sensitized patients who are extremely hard to match.
Dr. Rao also served as a keynote speaker at the National Kidney Registry's annual paired exchange event, attracting transplant surgeons, nephrologists, exchange coordinators, medical directors, surgical directors, lab directors and program administrators to the May 16 conference at the New York Academy of Medicine.
Dr. Rao spoke on a panel discussing histocompatibility, focusing on specific strategies for donor/recipient matches. He talked of his efforts to lead a process involving advanced matching strategies that have helped many highly sensitized patients achieve successful transplantation.
To learn more about NJ Sharing Network, get involved and register as an organ and tissue donor, visit http://www.NJSharingNetwork.org or call NJ Sharing Network at 1-800-742-7365.
_____
About NJ Sharing Network
NJ Sharing Network is a non-profit, federally designated organization responsible for the recovery and placement of donated organs and tissue for New Jersey residents in need of life-saving transplants. NJ Sharing Network partners with Donate Life America, a not-for-profit national alliance that drives communities to increase their numbers of registered donors. NJ Sharing Network honors those who gave, pays tribute to those who received, offers hope to those who continue to wait, and remembers the lives lost while waiting...for the gift of life.