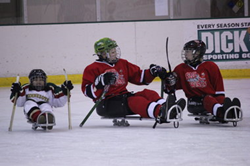 Processing Point Inc. is once again proud to sponsor the annual "Rinks to Links" charity golf tournament scheduled for August 3, 2014 in Grand Rapids, MI.
Carlsbad, CA (PRWEB) June 13, 2014
Processing Point is once again sponsoring the annual "Rinks to Links" charity golf tournament to help raise money for the Grand Rapids Sled Wings team. This year's event is scheduled for Sunday, August 3, 2014 in Big Rapids, MI and is expected to be bigger and better than ever.
Sled hockey is ice hockey for people with disabilities. It is open to any person with a physical disability that might prevent them from playing on a stand-up team. Sled hockey is also a very physical, demanding and highly competitive sport.
The sled hockey program provides an amazing opportunity for people with disabilities to get out of their wheelchairs and play competitive sport. It's both a great workout for people with disabilities and a great form of physical therapy. Most importantly, it gives athletes a chance to play competitively in a sanctioned and safe environment.
Founded in 2001, the Grand Rapids Sled Wings were the first sled hockey team in Michigan, and currently travel all over the country playing against other sled hockey teams. Grand Rapids Sled Wings consists of a junior and an adult team of athletes with physical disabilities that greatly rely on the donations brought in by the "Rinks to Links" Golf outing.
The goal of the Rinks to Links organization is to raise funds for the Grand Rapids Sled Wings to help them defray costs associated with travel, fees and other expenses. Since its inception in 2008, the annual "Rinks to Links" golf outing has successfully raised more than $60,000 for the Grand Rapids Sled Wings' hockey team.
This year's golf outing will once again take place at the Falcon Head Golf Course in Big Rapids, MI. Registration for the 18-hole, 4-person scramble is $75 per person, or $300 per team. Registration price includes a round of golf, dinner, door prizes, raffles, and a chance to win many more prizes throughout the day. All proceeds will go towards covering the costs of Sled Wings' travel and equipment expenses. To register, learn more about the event or to sponsor the cause, please visit http://www.RinksToLinks.org.
For more information about Processing Point, including the uAttend Employee Management System or the uAccept MobileSwipe and Point-of-Sale system, please visit the corporate Website at http://www.ProcessingPoint.com.