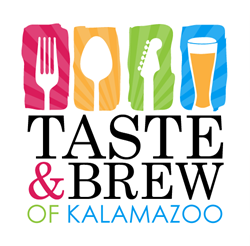 Kalamazoo, MI (PRWEB) June 12, 2014
Taste & Brew of Kalamazoo launched its new website this week as part of its countdown to the annual festival running in late July.
The festival, running July 24-26 at the downtown Arcadia Festival site, features a wide range of food offerings from local restaurants, beer choices from regional breweries, and a mix of musical tastes from local bands to national acts. The website, designed by Blue Fire Media of Portage, adapts in size and configuration to a viewer's device, making it easily on a desktop computer, a tablet or a smart phone.
The responsive design will allow people when they're at the festival to look up the menus, including prices, available at each food booth representing more than 30 restaurants, including ethnic fare from Africa, China, Italy, Japan, Mexico and the Caribbean. Festivalgoers will also be able look up performance schedules for the three-day run of the festival, and find out even more about a band even as it takes the stage.
During the run-up to the festival, the website will announce additional acts and provide more information about the singers and musicians taking the Arcadia band shell stage. Directions, prices, hours, prices, info on accommodations and more can be found at the festival website, http://www.tasteofkalamazoo.com.
This is the 29th year for the festival, originally named Taste of Kalamazoo. Festival organizers changed the name to Taste & Brew of Kalamazoo to reflect the growing importance of local breweries and microbreweries. The festival, held annually on the fourth weekend in July, attracts 25,000-30,000 people to downtown Kalamazoo.
Blue Fire Media, http://www.bluefiremediagroup.com, is a Portage-based web developer serving businesses, restaurants, organizations and industrial companies in Michigan and the Midwest.