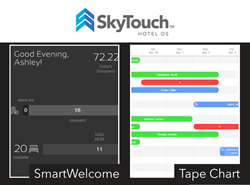 We are continuously making changes and additions to our offerings to ensure that our hotel management system is the most robust and effective solution.
Phoenix, AZ (PRWEB) June 11, 2014
SkyTouch Technology is scheduled to unveil a myriad of product changes and upgrades to the SkyTouch Hotel OS platform at the annual Hospitality Financial and Technology Professional's HITEC conference being held June 23-June 26, 2014 in Los Angeles, California.
The changes to the SkyTouch Hotel OS platform include features designed to improve operational efficiency and the customer experience:

Smart Welcome offers a personal welcome to each team member and notifies them of key information focused on what they need to know for their daily activities.
Tape Chart gives an improved visual view of hotel occupancy, offers drag and drop room change functionality and a room-type usage optimization tool.
Non Room Packaging gives properties the ability to add package components to any guest stay. This gives hoteliers the freedom to offer creative ways of increasing their guests' spend and improving the guest experience. Non-Room Packages can be used for meetings, events, birthday parties, and dining experiences, to name a few. These packages can be sold to the guest in addition to their room, without regard to the rate plan the guest was originally sold.
Automatic BAR (Best Available Rate) updates allows hotels the ability to pre-determine their unique BAR change patterns and set the system to automatically change their active BAR level based on actual booking patterns. This leverages the existing BAR structure of the SkyTouch rate management component and will have the effect of automatically raising and lowering rates as well as closing and opening rate plans.
"We are very excited to share with the world these enhancements to our Hotel OS platform. We are continuing to deliver on our RISE principle in these features—that is, they are all focused on being Reliable, Intuitive, Simple and Economical. When people have a chance to see what we have done in with our Tape Chart alone, it really shows how powerful the cloud can be," stated Charlie Green, Director of Product Management at SkyTouch Technology.
"We are continuously making changes and additions to our offerings to ensure that our hotel management system is the most robust and effective solution," says SkyTouch Technology President Ric Leutwyler. "I'm looking forward to sharing these changes with our customers and attendees at the show, and also excited to interact with other industry experts to grow our mindshare."
In addition, Senior Director of IT Larry Gorman will be featured in HITEC's Tech Talks to share insights on taking your hotel operations "Beyond the Cloud."
Post conference, Director of Marketing & Communications Gail Gust will be available to arrange interviews regarding information, research, and trends for the hotel and technology industry gathered at the show sessions and from breakout sessions while at the conference.
About SkyTouch Technology
SkyTouch Technology offers cloud-based technology solutions helping more than 5,600 hoteliers improve their efficiency and profitability. The SkyTouch Hotel OS solution is an affordable, full-featured platform providing property, rate, and distribution management tools in use by more than 50,000 hospitality professionals around the globe. The SkyTouch Technology team brings more than 1,000 combined years of hospitality industry experience and an award-winning training program to the marketplace – serving customers in seven countries. For more information about SkyTouch Technology, visit http://www.skytouchtechnology.com.
SkyTouch, SkyTouch Technology, SkyTouch Hotel Operating System and SkyTouch Hotel OS are proprietary trademarks and service marks of SkyTouch Solutions, LLC.
©2014 SkyTouch Solutions, LLC All rights reserved.