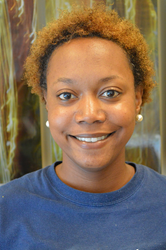 Our IBSS Partnership interns are able to learn how our processes will help carry the biomass industry forward ... and meet the Nation's bioenergy goals.
Vonore, Tenn. (PRWEB) June 12, 2014
Genera Energy Inc., a recognized innovator in sustainable biomass feedstock supply advancements and supply chain improvements, is partnering with the Center for Renewable Carbon program at the University of Tennessee Institute of Agriculture, by welcoming two summer interns from Auburn University. Alexus Brown, from Birmingham, Alabama, is a senior majoring in ecological engineering, and Mary Catherine Rubisch, from Weaverville, North Carolina, is a senior majoring in biosystems engineering.
The internship program is part of the Southeastern Partnership for Integrated Biomass Supply Systems (IBSS), which also includes North Carolina State University, the University of Georgia, ArborGen, Inc., and Ceres, Inc. IBSS is funded by a grant from the U.S. Department of Agriculture's (USDA) National Institute of Food and Agriculture (NIFA), which focuses on developing regional systems for the sustainable production of bioenergy and biobased products. The goal of the IBSS Partnership is to demonstrate the production of advanced biofuels from sustainable sources of lignocellulosic biomass. The program focuses on perennial switchgrass, and short-rotation woody crops such as eucalyptus and pine.
"We are thrilled to welcome Alexus and Mary Catherine to Genera Energy this summer as part of the IBSS Partnership," said Kelly Tiller, president and CEO of Genera Energy. "They have both come to East Tennessee eager to learn about innovative biomass feedstock supply chain solutions. The IBSS program is a key resource in training the next generation of biomass industry leaders in the Southeast."
The UT Institute of Agriculture and other partners submitted the IBSS Partnership proposal in 2010, in response to the USDA's Agriculture and Food Research Initiative (AFRI) requesting applications for regional Coordinated Agricultural Projects (CAP). AFRI's Sustainable Bioenergy Program places a priority on sustainable agriculture, forestry, renewable energy, and rural communities and entrepreneurship. The IBSS Partnership addresses those goals, highlighting solutions for sustainable biofuel production that can be implemented in the real world.
The Partnership is also working toward the USDA's goal of producing 22 billion gallons of biofuel, annually, by 2022; half of that is expected to be produced in the Southeast. IBSS partners aim to find cost-efficient, effective ways to fulfill the supply and demand for biofuels, while minimizing and managing risk, and providing satisfactory return on investment for farmers. Genera Energy is one partner leading the way in meeting those goals.
"We have been testing equipment and techniques that increase the quality of biomass crops from planting, to harvesting, storage, and preprocessing while reducing cost and risk," said Tiller. "Our IBSS Partnership interns are able to learn how these processes will help carry the biomass industry forward, and whatever their future roles in the industry may be, we feel confident that their time at Genera will put them at the forefront of helping to meet the Nation's bioenergy goals."
For more information about the IBSS Partnership, visit http://www.se-ibss.org. For more information about Genera Energy, visit http://www.generaenergy.com.
About Genera Energy, Inc.
Genera Energy Inc. supplies biomass feedstocks for the advanced biofuels, biopower, and biochemical industries, offering customized biomass supply solutions ranging from full service energy crop production and turnkey supply chains to managing biomass supply as a service. Genera's proprietary Supply ASSURE™ feedstock management system and its BIN-SPEC™ material handling and milling system offer Genera's customers maximum feedstock reliability and quality while minimizing variability and cost. Based in Vonore, Tenn., Genera operates the country's largest and most comprehensive industrial biomass management and processing facility. Focus on innovation and sustainability in delivering industrial biomass supply systems has earned Genera the World's Biofuels Market's prestigious 2013 Sustainable Feedstock Innovation Award. For more information, visit http://www.generaenergy.com.
About the UT Center for Renewable Carbon
The Center for Renewable Carbon consolidates the UT Institute of Agriculture's research, teaching and outreach programs related to bioenergy production and biomaterials processing.
For more information, see http://www.renewablecarbon.org.
About the IBSS Partnership
The Southeast Partnership for Integrated Biomass Supply Systems (IBSS) demonstrates real-world solutions towards economically and environmentally sustainable production and conversion of biomass-to-biofuel in the southeast U.S. This Partnership is helping to meet the USDA goal of producing almost 50 pervent of the next generation of biofuels in the southeast U.S., while supporting robust and innovative research, education and extension activities. Online at http://www.se-ibss.org.
###