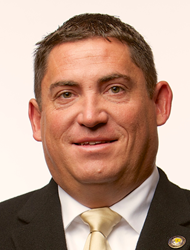 Orange Beach, Ala. (PRWEB) June 11, 2014
Columbia Southern University Vice President of Marketing, Admissions and Outreach Billy Hayes has been appointed by Shelby County (Ala.) Commission for the Board of Directors of the Alabama Firefighters Museum and Education Center.
The center, which will be established in Calera, Ala., will house an expansive collection of artifacts documenting the history of firefighting in Alabama while "honoring past and present fire and rescue heroes and providing interactive fire prevention and life safety education. "Hayes is excited to help in the creation of the museum. "It is truly my honor to be a part of this project, and even more so to have the opportunity to serve on this board," he said.
"Billy has extraordinary educational, firefighting and business expertise, and we are delighted that he is joining the AFFMEC's Board," said Lindsay Schluntz, foundation executive director. The museum foundation has 501c3 status.
A history enthusiast, Hayes added, "there are many volunteer opportunities that you can find to serve, but to find one that encompasses your passion and interest is amazing. That is exactly what this is for me. I hope to use my passion for public education and my love for the fire service to help this project go from vision to completion."
Hayes serves as the public information officer for Gulf Shore Fire Department. Previously, he served as the director of Community Affairs for the District of Columbia Fire and EMS Department and as the fire chief for Riverdale, Ga.
CSU offers online associate, bachelor's, master's and doctoral degree programs in various fields including criminal justice, fire administration, occupational safety and health, and business administration. If you would like learn more about CSU, please visit http://www.ColumbiaSouthern.edu.