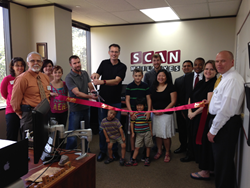 ...a great future in their business growth supporting global customers.
Austin, TX (PRWEB) June 12, 2014
Scan Mailboxes Co-Founders are pleased to announce that they finally cut the ribbon on June 10 at 2028 East Ben White Blvd, Suite 240. Ambassadors, families, and friends gathered for the opening of this business that launched on April 2, 2014. The co-founders, Chris D. Landry and Ken Brown III, both cut the dark red ribbon with "Austin Chamber of Commerce" embossed in gold.
Prior to the cutting, they said a few words as well as one of the ambassadors, Rene Campos. The founders look forward to a great future in their business growth supporting global customers. Campos added that they have founded the right place and right time to launch, especially with the business' projected growth of at least ten employees within three years. This means opportunities for at least ten families. Along with the rapid growth of Austin's population, they know Scan Mailboxes will benefit many people and businesses. He thanked them for supporting Austin's economic development.
Visitors were able to check out the office where Scan Mailboxes operates and enjoyed hors d'ovueres. Everyone there was able to network and share information.
Scan Mailboxes in the last two months has been able to provide top-notch service using latest technology for customers to receive mail online. The Temporary Mailbox Service was also just implemented to benefit those who are taking short-term leave from their primary homes, but they would like to continue receiving mail electronically without changing their permanent addresses.
When customers' mail and packages arrive directly at Scan Mailboxes' facility, customers get notified of scanned images of front envelopes/packages on the same day. From that point, customers can have full control via an user-friendly website from a computer or any mobile device to request to: open and scan the contents, forward the physical mail to any designated address, shred and recycle contents, or keep them in storage. Customers, who are in the Austin area, can even stop by to pick up their mail and packages at no additional charge.
Anyone can sign up at http://www.scanmailboxes.com and get their own unique assigned Postal Mailbox number to start using this smart service. This service is like using a P.O. Box, except that it is using digital technology to inform customers what mail have arrived, saving physical trips. Furthermore, they are only a click away from directing Scan Mailboxes what to do with their mail. In alignment with Austin's efforts on being environmentally conscious, we also think of ways on reducing carbon footprints.
Scan Mailboxes also provide Registered Agent Service for all Texas companies filed with Texas Secretary of State for $50 per year per company.
There are more exciting news to come. Stay tuned!