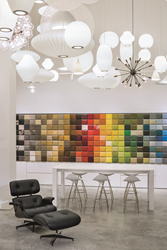 Stamford, CT (PRWEB) June 12, 2014
The blazing cloud of light fixtures visible from the street says it all: Design Within Reach has a big, new home in Houston, in the fabulous shopping destination of Highland Village, and everybody is invited to come down, celebrate and take a look at its extensive collection of modern furniture in this beautiful new space.
Design Within Reach is the world leader in authentic modern design and has been on a mission lately to open new and bigger Studios in major areas around the country. Now DWR has come to Houston to open the biggest Studio in Texas, at 10,000 square feet.
"We wanted to give Houston the respect it deserves," says John Edelman, the CEO of DWR. "We're doubling the size of the space just like we did in L.A., San Francisco and New York. Houston is right there on our list."
Edelman lights up when he talks about the new Houston Studio and others like it, part of an exciting strategy to close small, hard-to-find Studios and open bigger, brighter, breathtaking spaces that do justice to the biggest assortment of authentic modern furniture and accessories in the world.
"We want customers to share our passion for modern design," Edelman says.
They'll see that as soon as they spot the Light Cloud through double-height windows, a fantastic grouping of dozens of modern pendant lamps that says "We're here, we're excited, and we're selling authentic modern furnishings."
Inside, sofas, beds, tables and chairs are arranged in "houses" decorated with rugs, lighting, storage systems and accessories to help customers envision how pieces can work in their own homes.
Eye-catching displays like the Library Swatch Wall, itself a piece of beautiful design, show off more than 300 of the thousands of upholstery options from the likes of Maharam, Knoll® and Spinneybeck® leather. In addition, a 30-foot-long Light Gallery displays stunning sconces and lamps, and a large assortment of dining chairs awaits test-driving.
Throughout the Studio, well-known pieces can be found from manufacturers such as Emeco, Fritz Hansen, Herman Miller® and Knoll®, as well as designers such as Brad Ascalon, Chris Hardy, Jeffrey Bernett and Norm Architects.
DWR Houston is located at 4066 Westheimer Road, Houston, TX 77027.
Design Within Reach, Inc., founded in 1998 and headquartered in Stamford, Conn., is the world leader in authentic modern design. The company sells its furniture and accessories to residential and commercial customers through retail Studios in North America, through the Web at dwr.com, by phone at 1.800.944.2233 and through the Contract division at dwrcontract.com.
For additional images and information, contact Kim Phillips at pr(at)dwr(dot)com.