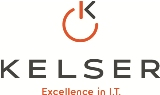 Our return to the list and advancement upwards is a testament to the hard work and dedication of our team here.
East Hartford, CT (PRWEB) June 12, 2014
Kelser Corporation, Connecticut's premier IT solution provider, today announced it has been named to the 2014 Solution Provider 500 (SP500) list by The Channel Company's CRN for the second consecutive year. The list ranks the top revenue-generating technology integrators in the U.S. and Canada whose forward-thinking approach to the channel has helped them evolve and thrive in today's cloud and services-driven IT era. The list spans eight categories from hardware and software sales, to managed IT services. Kelser Corporation placed #178 in the annual ranking.
Revenue size is determined by the amount of annual products and services sold over the course of 2013. Companies with no public documentation were required to submit a notarized affidavit attesting to their 2013 revenue. It's quite an accomplishment to make the list, and to repeat is quite a feat. Their current rank is an increase from last year's #205 placement.
"It's an honor to be recognized again," Kelser President & CEO Barry Kelly related. "Our return to the list and advancement upwards is a testament to the hard work and dedication or our team here. Our network of partners and vendors along with our internal knowledge base and resources contribute to our overall success."
The company's success is no accident. Along with a successful revenue stream, the company grew its workforce by 18% last year, and is currently hiring for over 7 positions. The last several years have been busy for the company, with enhancements to its professional services solutions, an acquisition and much more.
"The annual Solution Provider 500 represents those companies that truly understand the needs of customers today as the IT landscape evolves," said Robert Faletra, CEO, The Channel Company. "With so many options, this list has become an invaluable resource for vendors working hard to navigate the solution provider community and identify the best partner for their business. We congratulate the featured solution providers and look forward to covering their continued success."
A sampling of the 2014 SP500 list is featured in the June issue of CRN Magazine and is featured online at http://www.crn.com and in the CRN Tech News app, available for iPad and Windows 8.
About Kelser Corporation:
Kelser Corporation delivers innovative technology solutions that solve business problems, drive competitive advantage and enable client success. Established in 1981, Kelser remains a hallmark of reliability, efficiency and innovation. For more than 30 years, our reputation of unmatched customer service has become a staple of the Kelser brand.
Today, Kelser continues to provide innovative products and leading edge services designed to provide maximum stability, security, and scalability. Our business is focused on Professional Services which includes Project Management, Engineering, and Executive Solutions; and Supply Chain Products and Services. To learn more about Kelser Corporation, visit http://www.kelsercorp.com.
About The Channel Company
The Channel Company is the channel community's trusted authority for growth and innovation, with established brands including CRN, XChange Events, IPED, and SharedVue. For more than three decades, we have leveraged our proven and leading-edge platforms to deliver prescriptive sales and marketing solutions for the technology channel. The Channel Company provides Communication, Recruitment, Engagement, Enablement, Demand Generation and Intelligence services to drive technology partnerships. Learn more at http://www.thechannelcompany.com.