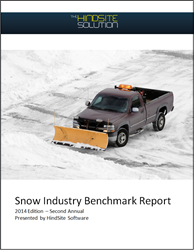 The 2014 Snow Industry Benchmark Report details the highs and lows of owning a snow removal business.
St. Paul, MN (PRWEB) June 18, 2014
According to the recently released 2014 Snow Industry Benchmark Report, the 2013-14 snow season was even better for most contractors than the previous year. Most snow professionals reported increased revenue and profits despite rising costs, salt shortages and difficulty attracting new customers. In fact, 44% of survey respondents indicated that their snow revenue had increased over 20%, compared to 38% in the 2012-13 snow season.
Though snowfall seemed to be up, leading to increased revenue and profitability, the lack of salt and deicing material available this year, the rising cost of insurance, and increasing fuel costs weigh heavily on the typical snow contractor.
These findings are reported in the 2014 Snow Industry Benchmark Report recently released by the snow removal software vendor, HindSite Software. The report is the culmination of a month-long surveying effort and reflects the challenges and outlook expressed by hundreds of survey respondents who provide snow removal services.
"The 2014 Snow Industry Benchmark Report details the highs and lows of owning a snow removal business," explains HindSite's Marketing Manager, Chad Reinholz. "Profitability was high this snow season, but it's still a very high-risk, high reward proposition."
Among the key findings:

26% of respondents chose sales and marketing as the area of their business they wish to improve, while 20% hope to improve operational efficiency.
As a result of the revenue and profitability increases the snow industry experienced, 71% of businesses to plan to increase spending on equipment and software to improve efficiency and productivity.
55% of respondents indicated they plan to raise their prices for the 2014-15 snow season because of the increased cost for fuel, salt, labor, insurance and maintenance.
Nearly 70% of snow professionals earn less than 50% of their total business revenue from their snow operations.
90% of snow businesses with more than 20 employees have an office manager, with QuickBooks being the primary accounting software solution for the industry.
Unlike its sister industry – the green industry – the snow industry doesn't have a wealth of educational resources available to it. There are some great organizations – like SIMA – that are available at a national level, but few local groups exist to help snow contractors connect with their peers. Those that attended trade shows were more likely to be profitable than those that don't attend shows.
"We found that, aside from QuickBooks accounting software, few snow professionals are using software to improve their efficiency," explains Reinholz. " Whether that's GPS tracking software or field service software, there's definitely an opportunity for a snow removal business to gain a competitive advantage and leverage the power of technology."
HindSite's snow removal software solution now features:

Better snow contract management features that make it easier to bill, manage and renew snow removal contracts.
Tools that help snow professionals route their crews and trucks more efficiently.
A complete electronic paper trail that protects businesses from frivolous lawsuits.
And more features that improve communication from the office to the field and to customers.
The Snow Industry Benchmark Report is available for free at http://info.hindsitesoftware.com/2014-snow-industry-benchmark-report.
About HindSite Software
HindSite Software has helped contractors better manage and grow their business with field service software since 2001. Initially designed as irrigation software, HindSite today assists service businesses with scheduling and billing, contact and contract management (e.g. field service CRM), field data collection, and invoicing in QuickBooks® and Sage50. This paperless field service management software has been proven to increase efficiency and organization, meaning greater profit potential with less administrative time.