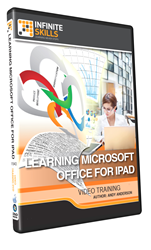 Learn Microsoft Office for iPad at your own speed.
(PRWEB) June 12, 2014
Software training firm Infinite Skills Inc. this week introduced its "Learning Microsoft Office for iPad," a concise set of lessons designed to teach the basic functionality and popular features available in the mobile version of the industry-standard suite of professional applications.
Microsoft Office Mobile includes the core applications Word Mobile, Excel Mobile, and Powerpoint Mobile, all compatible with their corresponding desktop applications. The suite is available for Windows Phone, Android, and iOS mobile platforms.
Infinite Skills' "Learning Microsoft Office for iPad Tutorial" provides a concise set of lessons designed to familiarize users of the desktop application with the navigation and basic functionality of the mobile version on iPad, including some popular features such as AirPrint.
Learning Microsoft Office for iPad Video Tutorial - Streaming
Course author Andy Anderson is a veteran trainer at Infinite Skills. An expert in a variety of popular software, including the Microsoft Office Suite, Apple OS X and iOS, and the Adobe creative line of software, he is a career photographer, professor, and graphic designer, with decades of commercial and artistic publications to his credit. He has authored 17 best-selling books on graphics and design. His training focuses on the Adobe creative suite and other common systems like Apple's OS X and Microsoft Office.
Following an introduction to the course, where Anderson covers basics such as creating an Office 365 account and preparing your iPad for Office Mobile installation, the course provides a chapter on some general tips and tricks that will allow users to work more quickly and efficiently in Office Mobile.
Anderson then takes each core program one by one, beginning with Microsoft Word, where he demonstrates how to perform essential functions, as well as how to print from your iPad using AirPrint.
Next, the course covers Excel, explaining basic spreadsheet functionality, how to use Excel fill options, enter a basic formula, and perform essential editing tasks.
Finally, Anderson looks at PowerPoint, providing an introductory lesson, and then demonstrating how to create and edit a presentation on the iPad, as well as how to "go primetime" with your presentation directly from the mobile device.
"I'll admit, at first I was a total skeptic about Office Mobile," Anderson says. "How do you take those feature-rich applications and fit them on such a small device? Hey, Microsoft, what are you leaving out? I don't know how they did it, but they did it. In Office Mobile, you're getting everything."
"In this course, we're not going in-depth with how to use the programs, but we're going to look in detail at how to use them on the iPad."
Free demo videos and a full list of course contents can be found on the Learning Microsoft Office For iPad training page on the company website:
http://www.infiniteskills.com/training/learning-microsoft-office-for-ipad.html
Infinite Skills offers its Learning Microsoft Office For iPad in DVD format and as a direct download from the company website at a retail price of $49.95, or as part of its new subscription service at a rate of $25 per month. All titles and formats are compatible with Mac and Windows operating systems. Shipping is available around the globe. Additionally, Infinite Skills tutorials are supported by project files which correspond to examples in the videos, allowing users to work alongside experienced instructors right on their computer or iPad.
About Infinite Skills Inc.
A leader in the field of software training, Infinite Skills designs its courses on a task-oriented model, teaching complex skills by providing hands-on examples and guiding users as they carry out essential functions. Infinite Skills offers a wide range of software titles available as DVDs, digital downloads, and in iPad editions. Infinite Skills now offers a subscription service, providing access to all its training content for a monthly fee, keeping with company's aim of delivering professional training to customers anywhere they want to learn.