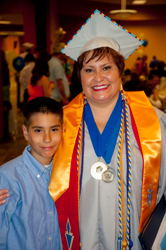 For Native Americans, it's more than education
Oklahoma City, OK (PRWEB) June 13, 2014
A new program is part of a broader outreach by Rose State College in Oklahoma City to Native Americans in the last several years.
The Native American Studies program includes transfer agreements with the University of Oklahoma, degree options and an annual Powwow, all of which are designed to bring the college in focus to Oklahoma's native heritage and in step with the needs of American Indians in Oklahoma, said program director Dr. S. Matthew DeSpain.
"For Native Americans, it's more than education," DeSpain said. "They want to go someplace where they feel people understand their culture and identity. Having a Native American Studies program is part of that."
DeSpain said the Native American Studies program is intended for both American Indians and non-Indians alike.
"The beauty of a program like this is it will help those of Native heritage start to process to go back to their communities with better understanding of where they come from, whether it's as a linguist, a counselor, or tribal leader," DeSpain said. "For non-natives, we are refining the perceptions about Native Americans and tearing down those cultural barriers."
An NAS degree prepares students for a variety careers or academic options while also improving cultural understanding, DeSpain said. The program is part of the college's Social Sciences Division, as an option of Academic Emphasis.
Beginning in Fall 2014 students at Rose State can pursue an NAS certificate option as well in addition to their primary degree. The NAS certificate is designed to increase graduates' marketability for jobs in the state, especially considering the growing importance of Indian tribes in Oklahoma business. Rose State is partnered directly with the NAS program at the University of Oklahoma, DeSpain said.
In the future the NAS program will include a study abroad course to Hawaii as comparative indigenous studies and also service learning internships with local tribes and affiliated institutions, he said. DeSpain said the trip will compare Native American tribal culture and contemporary issues in the continental U.S. with those of Native Hawaiians and other Pacific Islanders.
The college's efforts have caught tribal interest. This spring, Chickasaw Nation Governor Bill Anoatubby met with President Jeanie Webb and donated $25,000 to the college's Scholar Leadership program, stating, "We are pleased to support this worthy cause."
For more information on the Native American Studies program, contact Dr. S. Matthew DeSpain, American History and Native American Studies at (405)-733-7527, or email sdespain(at)rose(dot)edu.