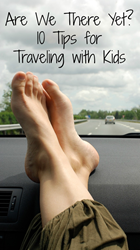 "Pigeon Forge is the ultimate family destination, but sometimes getting here with kids can be the challenging part.
Pigeon Forge, TN (PRWEB) June 12, 2014
No matter whether you're piling into the car for a Smoky Mountain vacation or just trekking to Grandma's house for a mini-reunion, chances are there's a road trip in store for your family this summer.
And if your family is like many, your biggest travel stressor isn't rising gas prices: The biggest challenge facing many of today's traveling families is often finding creative ways to keep your little ones entertained in the car for hours on end.
Jessica Bookstaff Doppelt, owner of PigeonForge.com, knows that many of the folks visiting family-friendly Pigeon Forge, TN, travel to her Smoky Mountain city by car. In fact, that's one of the area's biggest draws. She asserts that Pigeon Forge is located within an eight-hour drive of more than two-thirds of the country, making it one of the most accessible destinations in the country.
"One of the things I love most about Pigeon Forge is that it's so easy to travel here by car as we are centrally located. I love meeting folks who are visiting from across the South, Midwest and even the Northeast," Doppelt said. "No matter where you're from, you are sure to find something you'll love about visiting Pigeon Forge."
Doppelt is also a mom of three who knows firsthand how anxious little ones can get in the car, especially when they're looking forward to fun-filled days ahead. "Pigeon Forge is the ultimate family destination, but sometimes getting here with kids can be the challenging part." That's why she polled PigeonForge.com's more than 20,000 social media connections and a few experts to come up with the Ultimate Road Trip Survival Guide: 10 Tips for Traveling Parents.
You can find the Survival Guide's full list at the PigeonForge.com blog. In the meantime, here are a few highlights from the guide you can use for your family's next adventure on the road:
Leave at night. It might sound counterintuitive to pack up the car with pajama-clad children, but planning your next road trip around their sleep schedule can help ensure smooth sailing and tantrum-free traveling. Your little ones will likely sleep away their hours in the car if your departure time syncs up with bed time.
Share driving and social-directing tasks. Even though there's only one steering wheel, a road trip with kids can be a two-adult job. When your partner takes the wheel, you should take over as social director to make sure kids are entertained and happy. If possible, consider even letting an older child ride shotgun for a while to spend time with a cranky toddler in the back seat.
Plan ahead with neat and nutritious snacks. Doppelt knows first-hand that kids and husbands get cantankerous when they're running on an empty tummies. That's why she always packs a small cooler or lunch box with healthy snacks to keep her family happy when traveling. She suggests parents shy away from snacks like Cheetos and yogurt (too messy to be eaten in the car), but instead opts for treats that travel well like string cheese, pre-cut apple slices, bananas, granola bars, raisins and dry Cheerios.
Turn your travel time into a literary adventure. Instead of listening to the Frozen soundtrack on repeat, consider picking up a few kid-friendly audiobooks at your local public library before heading out on the road. Audiobooks are a great way to entertain older kids in the car. From fun fantasy tales like the Harry Potter series or A Wrinkle in Time to adventurous tales like Gary Paulsen's Hatchet, popping in an audiobook for your next journey can make time fly by while you're on the road. And, it's important to know that many libraries also offer downloadable MP3 audiobooks in addition to books on CD.
Click over to PigeonForge.com for a complete version of the Ultimate Road Trip Survival Guide and additional information about planning the perfect Smoky Mountain vacation!
###
About PigeonForge.com:
Jessica Bookstaff Doppelt has helped thousands of people plan Smoky Mountain vacations since she launched PigeonForge.com in 2000. She grew up in Pigeon Forge and considers the Great Smoky Mountains her home. She is happy to share all the great things about the area and help you enjoy a perfect getaway through her website where you can easily browse lodging, attractions, restaurants, wedding information and more. For additional information, visit http://www.PigeonForge.com or follow PigeonForge.com on Facebook and Twitter.