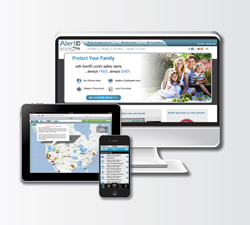 AlertID represents a rare opportunity to build an incredibly successful business while helping to improve the safety of families and neighborhoods across the country... Bryan Allison
Las Vegas, NV and San Francisco, CA (PRWEB) June 12, 2014
AlertID®, the family and neighborhood safety network, today announced that online revenue and marketing expert Bryan Allison has joined the company as the new Vice President of revenue and sales. Allison brings more than 20 years of vast knowledge of online revenue, marketing, media, product management and operations to the Company. He will be responsible for execution of the company's sales plan and partner initiatives.
"Bryan brings a proven history of success in online sales, media and marketing management," said Ken Wiles, CEO, AlertID. "He is exactly the right person to help enhance our revenue model and monetize our online, mobile and email platforms."
Allison has worked in a variety of roles with the Greenspun Corporation. He launched and was employee No. 1 at Vegas.com and ultimately served as its Chief Operating Officer and Chief Marketing Officer. Vegas.com is one of the most-visited travel and destination websites in the world, and, while there, he oversaw hundreds of millions in annual gross sales and hundreds of employees. Allison also negotiated major partnership deals and managed the successful launch of Vegas.com's mobile platform.
"AlertID represents a rare opportunity to build an incredibly successful business while helping to improve the safety of families and neighborhoods across the country," Allison said. "More than a million people already rely on AlertID, and I'm excited to help build on an amazing foundation."
Allison also served as Chief Operating Officer at Greenspun Media Group, where he helped manage a range of prominent news, business and arts and entertainment publications and websites. He also led its social media and marketing campaigns. Previously, he served as Director of Content at Vegas.com, as Assistant Managing Editor for the Las Vegas Sun and as Managing Editor for the Moscow-Pullman Daily News.
Allison attended the University of Nevada, Reno, majoring in political science and minoring in journalism. He is a member of the Young Presidents' Organization, Las Vegas Chapter, and the City of Henderson, Nevada Audit Committee.
About AlertID, Inc.
AlertID is your family neighborhood safety network. AlertID offers sex offender alerts that cover more than 90% of the US population and crime alerts for hundreds of cities in the US and all of England. AlertID has more than one million members in 85% of US zip codes and more than 30 countries. AlertID has proven to help reduce crime, using secure and proven technology to create two-way communication between citizens and federal, state, and local authorities to provide immediate information on crime, terrorism, natural disasters, or severe weather that can threaten the safety of families and communities. For more information, visit http://www.AlertID.com.