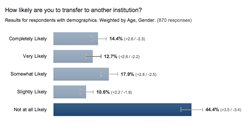 The role of the College Transfer Pathways group on LinkedIn is to ask questions, share original content and research, propose and discuss solutions
Peachtree Corners, GA (PRWEB) June 12, 2014
The National Transfer Network has launched a new LinkedIn Group. College Transfer Pathways is an additional place for higher education leaders and others to learn about, discuss, and share information about solving the U.S. college transfer problem.
According to a recent survey by the Network, up to 56 percent of students who are currently enrolled in college are likely to transfer to another institution. The survey of 1,027 college students also found that "transfer of most credits toward degree" is the most important factor when selecting another institution.
The inability to transfer credits, more than a lack of preparation or financial aid, is a key obstacle to graduation for students who move from a two-year to a four-year college, according to recent research by doctoral candidate David B. Monaghan (Sociology) and distinguished professor Paul Attewell (Sociology, Urban Education) of the Graduate Center of the City University of New York. The research reveals: "the greater the loss, the lower the chances of completing a BA."
Sean O'Brien, the Director of Strategic Partnerships at Ashworth College and a member of the Network's advisory board, said, "The role of the College Transfer Pathways group on LinkedIn is to ask questions, share original content and research, propose and discuss solutions … basically take the time to shed light on how college transfer impacts institutions or the higher education system as a whole. To do this, we encourage leaders from academia, business, and government to join this group, invite others at their institution to join it, participate in the discussion, and contribute their ideas or opinions."
Greg Jarboe, the editor of the Network's Knowledge Transfer blog, says, "Our new LinkedIn Group is designed to work in conjunction with our blog as well as our YouTube channel. We've been interviewing industry thought leaders like Michael Crow, President of Arizona State University, and Jamie P. Merisotis, president and CEO of Lumina Foundation. We've also been reporting on the Network's recent survey and recent research by two City University of New York academics. And we've been publishing the perspectives and commentary from contributors like Dr. Michael Hillyard. College Transfer Pathways will provide an additional place to share content, find answers, make contacts, and establish ourselves as industry experts on this topic."
About the National Transfer Network
The National Transfer Network is a non-profit organization founded in 2014 by progressive institutions acting proactively to solve the US College Transfer Problem for its member institutions and students. The Network is designed to clear a path for students to achieve their goal of earning a recognized, bachelor's degree from a member 4-year school in the most affordable, flexible way possible. The Network has been developed to make this as seamless as possible for students. For more information, visit http://transfer.ashworthcollege.edu/the-transfer-network/about-the-network/.