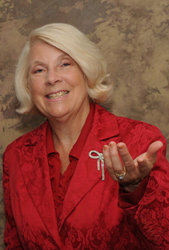 Offer treasures to your key customers.
Daytona Beach, FL (PRWEB) June 12, 2014
"Aesop's Keys to Profitable Marketing" delights leaders of small businesses. The book's publisher is the Premium Book Company. Dr. Betsy Kruger's book inspires leaders to use new marketing strategies.
Some examples are to focus on quality, compete on strength, target top prospects, and reward the best. The chapters update Aesop's fables, relate his wisdom to marketing, and show how to customize each key for a small business.
A universal law, the 80/20 rule, will predict the results. "Aesop's Keys" coaches readers to prosper by blessing others.
For example, Chapter 5 describes how Kimberly-Clark failed to realize how athletes would treasure a waterproof, yet breathable fabric. Decades ago Dr. Kruger overheard someone ask a Gore-Tex executive if their fabric had any competitors. "Not really. Kimberly-Clark had the capability, but they never realized they could have blown us out of the water."
This example relates to an Aesop tale. "A fox invites a stork to dinner and serves her soup in a flat dish. He snickers at the stork's efforts to such up the soup with her bill. Later, the stork invites the fox to dinner and serves him soup in a tall pitcher. She giggles at his efforts to reach the broth with his tongue."
Aesop encourages business leaders to offer "different strokes for different folks."
"Do you want to generate more profits?" asks Dr. Kenneth Bernhardt, Past President of the American Marketing Association. "Dr. Kruger lays out easy-to-follow ways to increase your profits."
Dr. Kruger seeks to ignite the engine of prosperity, one business at a time. Her business, Strategic Power, is certified by WBE and WOBE as a woman-owned business and has an A+ rating with the Better Business Bureau.
Her first book, "Top Market Strategy: Applying the 80/20 Rule," enriches graduate marketing courses. Dr. Kruger provided marketing research to many corporations, sold her software worldwide, and led 2000+ start-ups to succeed.
Her message resonates with business, association, and civic groups. Leaders discover twelve ways to improve their marketing strategies. Her interviews, speeches, and coaching show exactly how any business can spark its profits.
Dr. Betsy Kruger is an expert source on the topic of marketing for small businesses and start-ups. She is a popular guest on syndicated radio shows.