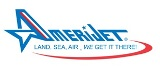 By focusing on our customers' needs, Amerijet holds one of the highest levels of reliability in the industry."
Fort Lauderdale, FL (PRWEB) June 17, 2014
Ever shipped a gift to a loved one and crossed your fingers, hoping and praying it would arrive on time? That's the premise of Amerijet's newest commercial highlighting its popular small package shipping services. In the 30 second commercial on the company's YouTube page, we see a father frantically looking out the window and checking his watch waiting for a package to arrive that contains a gift for his son's birthday. His wife assures him that she has checked Amerijet's online tracking (available 24/7) and that the package is set to arrive any minute. Sure enough, the Amerijet van rolls up on time, highlighting the company's fast, reliable to-door small package shipping service.
Amerijet's small package shipping service is among its most popular. With door-to-door delivery available in the U.S. and Canada, online booking and online tracking, and flat rates for packages weighing up to 60 pounds, the service delivers speed, convenience, and affordability along with the dependability Amerijet has long been known for.
The company's website describes its small package shipping service by saying, "Amerijet offers the fastest and most economical international Small Package Airport to Airport service (SPS) for shipments up to 60 pounds throughout its service region. By focusing on our customers' needs, Amerijet holds one of the highest levels of reliability in the industry."
For more information and the latest Amerijet news, Like the company on Facebook at http://www.facebook.com/pages/Amerijet/359591677420782.
Receive a free quote for air cargo shipping and take advantage of special savings by booking your shipment online when you visit http://www.amerijet.com/Promotions.
About Amerijet: Amerijet International, Inc. is a full-service multi-modal transportation and logistics provider, offering international, scheduled all-cargo transport via land, sea, and air. Florida-based Amerijet operates offices all over the world, serving destinations throughout the America's, Mexico, the Caribbean, Europe, Asia, and the Middle East. Amerijet operates Boeing 727-200 and Boeing 767-200 aircraft from its primary hub at Miami International Airport, with 210,000-square-foot export and 100,000-square-foot imports air cargo handling facilities and a 50,000-square-foot ocean cargo facility. A custom-built 10,300 square-foot (227,419 cu. ft.) cooling facility was specially designed to maintain the cool chain integrity of perishables during the transportation process. In addition to the state-of–the-art design features, multiple pre-cooling systems, and 24 hour surveillance, the refrigerated storage space is subdivided into four climate-controlled chambers offering not only refrigerated, but frozen, and chilled storage. For additional information, visit Amerijet on the web at http://www.amerijet.com.