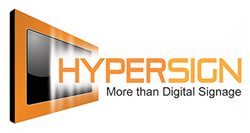 '...making the possibility to expand Hypersign onto new OS platforms a reality.'- Jason Mordhart
Greenville, Spartanburg (PRWEB) July 17, 2014
Hypersign, the ever evolving digital signage software, has one upped itself once again. The incredibly easy powerpoint conversion feature is now even faster than before. Upload a presentation, school news bulletin, or picture slide show in a blink of an eye.
Hypersign's original Flash-based conversion has been trashed for the faster, more standard HTML conversion. By ditching Flash and taking in HTML, powerpoint conversions are a fraction of their original time.
Jason Mordhart of Hypersign says, "The conversion output is fully HTML5, the standard for rich media delivery across many OS platforms, making the possibility to expand Hypersign onto new OS platforms a reality."
Hypersign Software is an award winning software product development company focusing on building products that improves the lives of people. The Hypersign product is known for its incredibly intuitive interface making it the perfect digital signage solution for education (K12 and higher Ed) and healthcare.