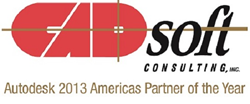 Tempe, AZ (PRWEB) June 12, 2014
CADsoft Consulting, Inc. a premier provider of technical design and engineering solutions, and Autodesk 2013 Americas Partner of the Year is hosting an Autodesk 2015 Solutions Seminar with special guest presenter, Lynn Allen, Autodesk Technical Evangelist. The seminars will take place on June 12, 2014 in Albuquerque, NM and June 13, 2015 in Phoenix, AZ, where attendees have the opportunity to learn about Autodesk 2015 solutions.
Lynn is presenting, "Getting the most out of AutoCAD 2015" where she takes attendees through a tour of the latest features, throw in some tips and tricks, and introduce other products in the AutoCAD Design Suite that will help take designs to the next level. In addition to Lynn's presentation, CADsoft Consulting industry experts and popular contributing CADsoft bloggers, Nick Harper and Patrick Villella are presenting to infrastructure and building attendees. Nick is offering "What's New with Autodesk Infrastructure Design Suite", and "Integrating Autodesk InfraWorks 360 and Autodesk Vehicle Tracking" to optimize project performance from design to field. Patrick is offering "What's New with Autodesk Building Design Suite" and "Working with point clouds in Autodesk Field & Glue and Autodesk Navisworks" and "Importing AutoCAD Civil 3D into Autodesk Revit."
The event is free. Click here to view the complete agenda and register for the event or logon to http://www.cadsoft-consult.com
About CADsoft Consulting
CADsoft Consulting's national team of consultants helps clients pursue innovative concepts for 3D digital design, Building Information Modeling (BIM), Project Lifecycle Management (PLM), Leadership in Energy and Environmental Design (LEED), and 3D design visualization. With over 23 years of industry, business, and technical expertise, CADsoft Consulting's unique services has been sought after by an impressive list of architectural firms, engineering companies, manufacturing and mining, government agencies, and academic institutions. CADsoft Consulting is an Autodesk Gold Partner with specializations in Building, Civil Infrastructure, Advanced MEP, Advanced Structure, Process & Power, and Government. In addition, CADsoft holds Autodesk Consulting and Product Support Specializations and is an Authorized Training Center (ATC). For more information, please visit our website: http://www.cadsoft-consult.com.
Autodesk, AutoCAD, Civil 3D, Revit, Navisworks, InfraWorks 360, BIM 360, and ATC are registered trademarks or trademarks of Autodesk, Inc., and/or its subsidiaries and/or affiliates in the USA and/or other countries.