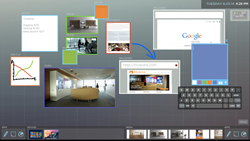 The ThinkHub Canvas expands to greater than 20 times the surface area of the touchscreen – housing significantly more content than your average smartboard.
Charlotte, NC (PRWEB) June 12, 2014
T1Visions, a provider of interactive touchscreen experiences, announced it will unveil its newest software application, ThinkHub™, operating on the first-to-market 84" Ultra HD Projected Capacitive inTouch™ Wall at InfoComm 2014. This marks the first appearance of a commercially-available, turnkey touchscreen solution of this caliber. Projected Capacitive Touch (PCT) technology is the same technology used on leading mobile devices – making this large-format touchscreen incredibly responsive. The 84" UHD PCT inTouch Wall registers up to 32 touches simultaneously.
ThinkHub is a multiuser software application designed to help teams to ideate, visualize, and problem solve. By consolidating all information on a large-format touchscreen, ThinkHub transforms traditional meetings into more proactive, effective sessions that drive conversations, positively impact performance levels, and that physically alter the workspace.
ThinkHub is BYOD-friendly (bring your own device), allowing anyone to tap into the application from the device that s/he uses the most. ThinkHub supports laptops and mobile devices running iOS and Windows. What's more, the ThinkHub Canvas expands to greater than 20 times the surface area of the touchscreen – housing significantly more content than your average smartboard. Users can drag and drop media files onto the Canvas to view, annotate, pinch and zoom, take snapshots/duplicate, and move around or group together. Supported content includes photos, videos, PDFs, and PPTs – which can be uploaded via USB, shared wirelessly via MOD (Mirror Own Device) Mode, or accessed via Web Browser. Multiple users can operate in MOD Mode simultaneously – enabling users to share their screens from any mobile device or laptop.
In line with its collaborative work-area products for corporate and education markets, T1Visions will also showcase its inTouch™ Collaboration Table, which features a 32" flush-mounted touchscreen with accompanying 40" Media Screen. Users can split the touchscreen for multiple users, and mirror touchscreen activity to the Media Screen in real time.
T1Visions will host live demos of ThinkHub operating on the 84" UHD PCT inTouch Wall at Booth C7147 on June 18 - 20 at 10:30am, 1:00pm, and 3:00pm. To learn more, or to schedule a private demo, contact T1Visions at sales(at)t1visions(dot)com.
About T1Visions
T1Visions creates interactive touchscreen experiences. Deliberately large in size and incredibly durable, our inTouch™ Platform includes tables and walls, along with complementary digital signage and mobile device integration. Our products are powered by proprietary multitouch, multiuser software that transforms public spaces into more dynamic environments. The T1Visions team is made up of design, engineering, business and technology minds alike - resulting in unrivaled support to our customers from start to finish.
Based in Charlotte, NC, T1Visions works with retail, events and exhibits, corporate, hospitality, and education markets around the globe. Visit http://www.t1visions.com to learn more about our products and how we can work with you and your industry.