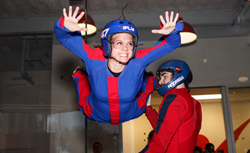 As we now become iFLY Denver, we are expanding our programs to include many diverse ways to enjoy the rush of indoor skydiving.
Denver, Colorado (PRWEB) July 17, 2014
SkyVenture Colorado, an Indoor Skydiving facility that has been offering the Denver Colorado community and visitors the exhilarating excitement of an aerial-free fall, is pleased to announce its now part of the iFLY Indoor Skydiving family. With the adoption of its new brand, iFLY Denver has simultaneously launched their redesigned website Denver.iflyworld.com where customers can easily book their flight reservations just like booking a seat on an airline. The facility is also in the midst of a remodel bringing new experiences, flight lesson programs and technology to the community for flyers of all ages.
As we now become iFLY Denver, we are expanding our programs to include many diverse ways to enjoy the rush of indoor skydiving. We will now offer schools & camps STEM educational classes for grades 2 through 12 based on the common CORE science principals used by 48 US states. We will also be bolstering our corporate outing and team building programs with our updated facilities. Last but not least, our commitment to making the most memorable birthday for any age is a guarantee to bring lots of smiles to all birthday party participants s young or young at heart, commented, iFLY's Chief Marketing Officer, Stuart Wallock
Anyone who has ever wanted to feel the singular rush of skydiving, from age three to 103, can make their dream a reality at iFLY Denver. The experience perfectly replicates the adrenaline-charged sensation of a skydiving free-fall while eliminating the daunting leap out of an airplane. Following a brief training session, all fliers are outfitted in a flight suit, helmet and goggles before entering the wind tunnel. To begin their flight, patrons simply lean forward onto a cushion of air (toward their friendly, certified iFLY instructor) and the rushing air allows them to float. First-time flyers are given the opportunity to learn basic belly flying. Like any skilled sport, with additional training, flyers can progress to advanced aerial gymnastic maneuvers.
iFLY Denver's re-branding represents our company's evolution and direction," said Vice President of Operations, Trevor Thompson. "Guests and employees gravitate toward us because of our global presence and work we do to maintain the highest standards of creating a fun and safe environment in which to fly. The acquisition of SkyVenture Colorado is the positive outcome of the company's broadening footprint, unprecedented growth and increasing recognition. The rebranding will continue to build and foster iFLY Indoor Skydiving's unparalleled dedication to offering the adventure of a lifetime.
The iFLY experience is made possible utilizing a technology called the "vertical wind tunnel," which was historically used by the military and professional skydivers for training. Four powerful, high-efficiency axial fans are mounted at the top of the building, channeling air down the side tunnels into the basement, and then up through the floor of the 12-foot-wide circular flight chamber, creating a strong upward draft. This upward draft, which ranges in speed from approximately 80 to 175 miles per hour (depending on the weight and expertise level of the flyer), creates a stable, safe, wall-to-wall airflow that pushes guests aloft and makes it possible for them to fly.
From first-time flyers to professional skydivers, different flight packages are available based on level of experience and number of people. The basic, beginners-level package for an individual includes two flights, complete with a personalized flight certificate for $59.95. Each flight is 60 seconds in length—actually longer than the approximate 45-second tandem free-fall descent experienced when jumping out of an airplane. Double-length flights are also available at a reduced rate. Flyers who return to iFLY within three months of their last session are classified as "Return Flyers" and offered discounted packages. Experienced flyers also have the opportunity to fly in groups with others of the same skill level in the tunnel.
More information on iFLY programs and facilities can be found at denver.iFLYworld.com.
# # #
About iFLY
Austin-based iFLY Holdings is the world leader in the manufacturing, sales and operations of wind tunnel systems for recreational indoor skydiving, competitive skydiver training and military training. Under the brand names iFLY, SkyVenture, Airkix, Paraclete and Freezone, the company has flown over 6 million flyers in 32 facilities operating around the globe, with expansion plans rolling out over the next few years.