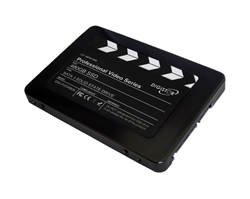 Campbell, CA (PRWEB) June 13, 2014
DIGISTOR, a leading provider of high-quality storage devices, has recently broadened distribution of its Professional Video Series SSDs, enabling media professionals across the globe to benefit from their unparalleled performance and reliability. Filmmakers, production crew members and other individuals who rely on high-quality video capture have more opportunities than ever before to get their hands on DIGISTOR's top-shelf solutions as the company now offers its products in several international markets:
North America - DIGISTOR's fruitful partnership with B&H Photo gives both aspiring and established filmmakers throughout the United States and Canada easy access to industry-leading SSD drives. Several Hollywood veterans have turned to DIGISTOR's Professional Video Series SSDs to reliably capture raw, uncompressed video without losing a single frame and ensure that their productions stay on schedule. DIGISTOR products can be found online at http://www.bhphotovideo.com.
Latin America - Already a trusted distributor of high-quality video equipment, Corporativo Simplemente has significantly enhanced the quality of its offerings by striking up a relationship with DIGISTOR. Whether they work in broadcast, film or other media outlets, video professionals in the Latin American market can now leverage the best SSD drives available and capture crystal-clear digital transfers without fail. Contact Corporativo Simplement at http://www.simplemente.net.
Asia - DIGISTOR now offers its top-of-the-line wares to filmmakers across the Asian continent, working with noted distributor, Viewcon. Because Professional Video Series SSDs have been designed specifically with video capture in mind, they are optimized for use with the industry's best recording equipment. Production crews in this expansive region now have the opportunity to see why DIGISTOR products have received rave reviews in other markets. Contact Viewcon at http://www.viewcon.com.
South Africa - Stage Audio Works, the leading distributor of high-end audio and video equipment in South Africa, recently struck up a partnership with DIGISTOR, bringing the company's industry-leading acquisition media to African shores. This rewarding relationship has blossomed to expand distribution channels throughout the continent. Contact Stage Audio at http://www.stageaudioworks.com.
DIGISTOR solutions have already piqued the interest of many filmmakers and production members thanks to their compatibility with Blackmagic Design and Atomos hardware. Now, video professionals across the world can benefit from the use of high-quality SSD drive created for their specific needs. DIGISTOR technicians continue to develop the best performing and most reliable storage devices in the marketplace. With distribution expanding to reach new countries around the globe, the future looks very bright indeed.
About DIGISTOR
DIGISTOR, a division of Sunland International, LLC, is a leading innovator, manufacturer and distributor of digital archiving products and secure storage solutions. Serving the industrial and global OEM market since 2001, DIGISTOR provides industrial-grade archiving and digital-video storage solutions to consumers, professional users, SMB's and specialized industries such as photography, broadcast, videography, medical imaging and security/surveillance. Conatct DIGISTOR at http://www.digistor.com.
DIGISTOR™ is a trademark of Sunland International, LLC.