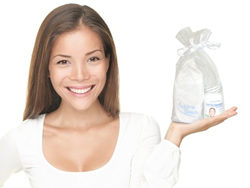 Two strategies for more beautiful skin - Skin Brushing and Phytoceramides - are now offered together by Sublime Beauty®.
St. Petersburg, FL (PRWEB) June 12, 2014
How to improve skin health, radiance and beauty - that is a question asked every day by many.
"Work from the inside AND the outside for best results," says Sublime Beauty® founder, Kathy Heshelow. "Benefits of healthy Skin Brushing are known, and now Phytoceramides can help from within."
The company offers a new skincare set, which includes the popular Skin Brush plus a bottle of Phytoceramides (30 capsules). Use the code 15KIT at SublimeBeautyShop for the introductory discount.
Phytoceramides are relatively new in the U.S. while enjoying long popularity and results in Japan and Europe. Heshelow recently published a book about Phytoceramides to help demystify the subject for the American audience.
"We lose ceramides in the skin as we age (much like collagen), and they are responsible for skin plumpness, moisture-retention and barrier protection against the environment. Taking Phytoceramides daily replenishes the supply from within naturally," says Heshelow.
Skin Brushing benefits include exfoliation of the toxins and dead skin cells, boosting of blood circulation, aiding of lymphatic system (which keeps the immune system strong) and even reduction of cellulite. Sublime Beauty® has a full site devoted to the subject.
ABOUT: Sublime Beauty® is a quality skincare company that focuses on products to "Age Younger". Products help to boost collagen, hydrate, relax wrinkles and improve skin. A niche includes healthy Skin Brushes. The company webstore offers free standard shipping and a VIP Club. Products also available on Amazon.