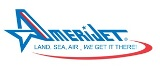 Amerijet's YouTube channel provides a forum for sharing expertise and helping shippers learn more about the cargo shipping services offered.
Ft Lauderdale, FL (PRWEB) June 24, 2014
Amerijet International, Inc., a worldwide leader in cargo shipping services and solutions, is proud to announce the launch of its new YouTube channel. The company's YouTube channel offers viewers a range of short videos highlighting the variety of freight shipping services they provide.
With nearly 30 videos posted to date, Amerijet's YouTube channel serves as a great introduction to the company's services and solutions. Popular videos include an all-new commercial for Amerijet's popular small package shipping services, a special Mother's Day shipping announcement, holiday cargo shipping commercials, and videos documenting Amerijet's presence at special events, such as the Hispanic Business & Consumer Expo.
The new Amerijet YouTube video is the latest piece of the company's growing social media presence. In recent months, Amerijet has made a devoted effort to increase its online presence to better connect with customers and to offer the highest level of service possible.
For decades, Amerijet has been meeting the diverse shipping needs of its commercial and residential customers. The company has long been known for its unyielding commitment to customer service and its expertise in handling all types of commodities. Its YouTube channel provides a forum for sharing expertise and helping shippers learn more about the cargo shipping services offered.
For more information and the latest Amerijet news, Like the company on Facebook at https://www.facebook.com/Amerijet..
Receive a free quote for air cargo shipping and take advantage of special savings by booking your shipment online when you visit http://www.amerijet.com/Promotions.
About Amerijet: Amerijet International, Inc. is a full-service multi-modal transportation and logistics provider, offering international, scheduled all-cargo transport via land, sea, and air. Florida-based Amerijet operates offices all over the world, serving destinations throughout the America's, Mexico, the Caribbean, Europe, Asia, and the Middle East. Amerijet operates Boeing 727-200 and Boeing 767-200 aircraft from its primary hub at Miami International Airport, with 210,000-square-foot export and 100,000-square-foot imports air cargo handling facilities and a 50,000-square-foot ocean cargo facility. A custom-built 10,300 square-foot (227,419 cu. ft.) cooling facility was specially designed to maintain the cool chain integrity of perishables during the transportation process. In addition to the state-of–the-art design features, multiple pre-cooling systems, and 24 hour surveillance, the refrigerated storage space is subdivided into four climate-controlled chambers offering not only refrigerated, but frozen, and chilled storage. For additional information, visit Amerijet on the web at http://www.amerijet.com.