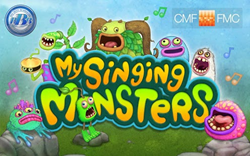 (PRWEB) June 16, 2014
A solution brief released recently by game developer Big Blue Bubble describes the recent optimization of My Singing Monsters for Intel® Atom™ tablets for Android*.
The publication highlights how -- in an effort to bring the animated, musical My Singing Monsters app to a broader audience -- Big Blue Bubble recently enabled the charming interactive game for Android* tablets. The brief describes the various virtues users can expect when downloading the app to their mobile devices, including added portability and versatility.
As an Intel® Software Partner, Big Blue Bubble has access to a wide range of technical and support resources within the Intel® Developer Zone.
About Big Blue Bubble INC:
Big Blue Bubble was founded in 2004 by a small group of gaming industry veterans. From the outset, the goal was to become an undisputed leader in the mobile video gaming industry. For more about Big Blue Bubble INC visit: http://ww2.bigbluebubble.com/
About the Intel Developer Zone
The Intel Developer Zone supports independent developers and software companies of all sizes and skill levels with technical communities, go-to-market resources and business opportunities. To learn more about becoming an Intel Software Partner, join the Intel Developer Zone. For more information, visit: https://software.intel.com/
Intel, the Intel logo and Intel Inside are trademarks of Intel Corporation in the U.S. and/or other countries.
*Other names and brands may be claimed as the property of others.