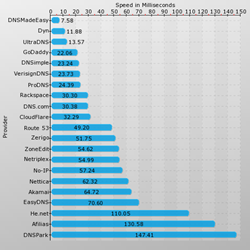 DNS Made Easy is two-to-three times faster than competing DNS services that charge exponentially more for speed.
Reston, VA (PRWEB) June 12, 2014
Speed: it's what kills – the competition.
Solve DNS, a third party network research firm, said DNS Made Easy provides the fastest network speeds in the industry – across the nation – for the month of May. DNS Made Easy not only ranks number one for speed, but we are also number one in uptime.
Each DNS query is timed and logged, and at the end of the month, SolveDNS analyzes the data and generates a report, which includes the rankings of the top DNS providers in terms of DNS query speed in milliseconds.
DNS Made Easy's average speed of 7.58 milliseconds is 4.3 milliseconds ahead of the closest competition.
Simply said: speed matters. The job of a DNS server is to translate domain names (http://www.example.com) into IP addresses (10.0.0.0.1). The DNS server does this for every new site visited in the browser. This means, no matter how fast an Internet connection speed is, a site won't load unless the DNS server has performed the lookup successfully.
"I am pleased to see these results month after month, because the difference between our speed and the competitor who comes in at second place is quite dramatic," said Steven Job, president of DNS Made Easy, which has a 13-year leading up time, the best in the industry. "DNS Made Easy is two-to-three times faster than competing DNS services that charge exponentially more for speed."
DNS is critical component of online media, which is why it is important to monitor and optimize DNS to ensure user satisfaction. Network speeds are mission-critical in providing fast resolution times for customer domains.
"We are so aggressive when it comes to speed and performance," Job said, "we end up competing with ourselves and our own times."
Low latency applications, such as DNS are typically where delays occur in processing data. That's why DNS Made Easy invests in network infrastructure, which provides the extra edge over the competition in terms of performance and speed.
DNS Made Easy has approximately 600,000 domains on the Internet, and is the largest enterprise DNS provider in the industry. DNS Made Easy has built a core IP Anycast+ routed DNS architecture built with Juniper Networks equipment that has provided clients with the leading up time in the industry for the past 13 years.
Currently, DNS Made Easy is handling 8 billion queries a day and is expecting to exceed an average daily query volume of 13 billion within the next 18 months.
"We put a considerable amount of investment into our infrastructure and equipment," Job said. "This is one of the main reasons DNS Made Easy remains at the top in the industry for speed."
About DNS Made Easy
DNS Made Easy is a subsidiary of Tiggee LLC, and is a world leader in providing global IP Anycast enterprise DNS services. DNS Made Easy implemented the industry's first triple independent Anycast cloud architecture for maximum DNS speed and DNS redundancy. Originally launched in 2002, DNS Made Easy's services have grown to manage hundreds of thousands of customer domains receiving more than 8 billion queries per day. Today, DNS Made Easy builds on a proud history of uptime and is the preferred DNS hosting choice for most major brands, especially companies that compare price and performance of enterprise IP Anycast alternatives.