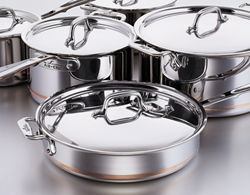 we are very excited by the prospect of opening some amazing new lines that should be on the site just in time for the Holiday shopping season, so stay tuned for more updates in the future.
La Verne, CA (PRWEB) June 16, 2014
FactoryDirect2you.com (a high-end retail housewares website) announced today that they have discontinued relations with All-Clad Metalcrafters, LLC (a brand of Groupe SEB, France) and will be immediately liquidating the entire line of All-Clad Cookware and Emerilware Cookware Sets at an additional 20% below the already low Minimum Advertised Price.
Items being liquidated include the popular 3-Ply Stainless Cookware, MC2 Brushed Aluminum Exterior, Copper Core Cookware and the Emerilware Pro-Clad 12pc Cookware Set. With savings averaging around $40.00 per piece, these items will not last long, so early shoppers will have the best selection to choose from.
"We are saddened by the end of this relationship with All-Clad, as they had been an incredible partner since our business started in 2002," said Greg Hummel, managing owner of FactoryDirect2you. "On the other hand though, we are very excited by the prospect of opening some amazing new lines that should be on the site just in time for the Holiday shopping season, so stay tuned for more updates in the future."
For more information about this All-Clad Liquidation Sale, please call toll free at 866-233-6587 or visit http://www.factorydirect2you.com/all-clad-cookware.html or http://www.factorydirect2you.com/clad-emerilware-cookware-set.html
About FactoryDirect2you.com
FactoryDirect2you.com is a BBB (Better Business Bureau) accredited organization with a BBB Rating of A+. Having over 11 years of experience and knowledge in the retail home and housewares industry, they are committed to offering a broad range of health & wellness products as well as home goods & kitchen products at the best prices possible with exceptional, friendly customer service and quick shipping. Detailed information on the company can be obtained by visiting http://www.factorydirect2you.com/