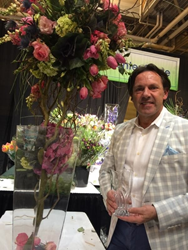 New Orleans, LA (PRWEB) June 11, 2014
The heat was on, not only outside from the New Orleans sun, but inside the Morial Convention Center as seven designers from around the country competed for the title of 2014 Iron Designer at the 27th annual International Floriculture Expo. Returning co-hosts Pieter Landman (Owner, Blooming Vision BV, Amsterdam, Netherlands) and Jacob McCall (CFD, FSMD, and two-time Iron Designer winner) engaged and entertained the audience as the designers battled on center stage in the exhibit hall of the expo on Wednesday, June 11.
The theme for the 2014 competition was "New Classic," where the designers used inspiration from the Gothic and Baroque periods and modern techniques to show judges their take on some of the oldest and most romantic styles. With only 20 minutes on the clock, the designers created unique, trendy and innovative floral designs using a surprise package of vases, flowers, foliage and accessories provided by exhibitors throughout the event. While all of the designers were worthy of the title, Ian Prosser of Botanica International Design & Décor Studio emerged as the overall winner and took home the title of 2014 Iron Designer.
Seven designers from all over the US were in the spotlight for this year's competition:

Paula Aurand, Five Petals Floral
Amy Constanzo, FTD
Diane Hedden, Winn Dixie
Laurel Hollopeter, Hy Vee
Julie McCann Mulligan, 1-800-Flowers.com
Paul Ponn, Bella Floral Boutique & Mary's Flowers and Gifts
Ian Prosser, Botanica International Design & Décor Studio
Accredited designers from AIFD, American Institute of Floral Designers, based in Baltimore, MD, were on hand to judge and determine the talented winner. Product for the competition was supplied by Ball, Syndicate Sales Inc., The Elite Bouquet, Arrow, and Oasis Floral Products, all exhibitors at the 2014 Expo.
About International Floriculture Expo | http://www.floriexpo.com
International Floriculture Expo (IFE) is produced by Diversified Communication of Portland, Maine. This show is the only industry-wide event that brings buyers and sellers together and serves all segments of the floriculture process. IFE is the leading trade exposition and educational conference for mass market retailers, supermarkets, garden centers, retail florists, growers, nurseries, event floral designers, and other retailers of floral and foliage products. Admission guidelines are enforced to maintain the integrity of the buying audience.
About Diversified Communications | http://www.divcom.com
Diversified Communications, based in Portland, Maine, US provides information and market access through face-to-face events, publications and online. Diversified serves a number of industries including: floral, seafood, foodservice, natural and organic, healthcare, commercial marine and business management. Diversified operates divisions in Australia, Hong Kong, India, the UK and Canada.
###