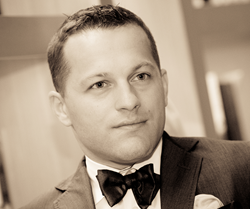 Benevolent Generation connects new and disruptive business models with targeted audiences and highly efficient online revenue streams.
New York, NY (PRWEB) June 17, 2014
Benevolent Generation, a diversified media investment firm and a leader in Internet marketing technology is proud to Present Mr. George Berar as the Global CEO and Head of International Operations.
Mr. Berar is a dynamic entrepreneur and business strategist who has used his expertise to successfully build operational and financial strategies for a wide array of start-up and established companies over the past 10 years.
Mr. Berar has a passion for knowledge. He earned bachelor's and master's degree in financial management, as well as dual MBA degrees in the United States and Romania. He has continued his international education with courses from Harvard Business School and The Stanford Graduate School of Business in the United States and professional management courses in the UK.
In 2010, George Berar co-funded Benevolent Generation, a U.S.-based investment group that provides financial support, mentoring, and business guidance for a variety of companies. The investments are varied, including the multinational online marketing agency Madrivo, and the DNA testing marketplace DNA Spectrum. Mr. Berar has combined his passion for start-ups with his desire to help mentor and coach others to success.
George Berar has demonstrated proficiency in analyzing business needs and objectives. Adept at identifying the most efficient methods to achieve business goals, Mr. Berar's solutions minimize costs and overhead using multinational staff and other methods. In addition to his business and financial acumen, Mr. Berar has a knack for training and leading exceptional teams; these teams continue to carry his vision forward within the organizations Mr. Berar helped to establish. His intuition and strategic business planning are the secrets to the success that has enabled him to help build companies and maintain their ongoing growth.
Mr. Berar currently spends the majority of his time between the United States and Romania in his business capacities. He is an avid extreme sport and travel enthusiast and likes to unwind with activities such as snowboarding and traveling abroad as well as pursuing business opportunities internationally.
About Benevolent Generation
We connect new and disruptive business models with targeted audiences and highly efficient online revenue streams.
Imagine a clear and enticing website that is search engine-optimized, social media-enabled and showcases your distinctively branded products and services. Next, think of the consumer traffic driven to your website by e-mail marketing, social media, display advertising, and search engine optimization that is high-capacity, targeted, and fully compliant. Finally, consider seamless merchant processing and order fulfillment as the third piece of the perfect online consumer experience. A partnership with us brings this power to your fingertips.
We work diligently and passionately with the resources and creative energy of people who do well by doing good. We make significant investments of capital and creativity into ethical, high quality projects that we care about, managing these relationships as strategic partnerships. We enjoy dedicating our skill and experience to overcome challenges, innovate solutions and see projects through to success. We work to realize the value proposition in sustainable development from a triple bottom line approach: through performance that is financially, environmentally, and socially responsible, we strive to help you build the equity and earn the goodwill you deserve while tapping high advertising investment returns online.
For further information please visit Benevolent Generation or contact:
Dawn Gilliland
press@bengen.net
3889 S Eastern Ave
Las Vegas, Nevada 89169
United States